Posts tagged
Filene's Basement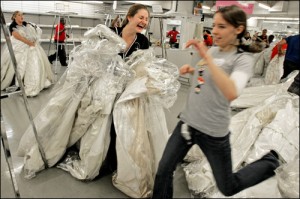 Aventura, Florida – November 18, 2009  
 It's shopping as a full-contact sport and the women who took part in the first ever RUNNING OF THE BRIDES event in South Florida wouldn't have it any other way.                                   
There were over 1300 brides, and Sudsies was there to help provide information on cleaning, finishing and preserving wedding dresses.  We also had our tailors and seamstresses' on site to help with fittings and all types of adjustments for the special day.                                                                
The legendary bargain stampede took place on January 15, 2010 at the new FILENE'S BASEMENT in Aventura. If you've ever seen this event in the news, you'll know that many brides-to-be and their helpers literally pounce on dresses priced from $249-$699 that might otherwise cost as much as $9,000. 
                                                                                                                                                    "We promise our vendors that we won't reveal the labels, but I can say that these are well-known names featured regularly on the pages of popular brides' magazines," said Nicole Laricci, FILENE'S BASEMENT'S wedding gown buyer. Which is why, when the doors open, there is a mad dash to the racks – held up by store employees so they don't topple – and those racks are usually stripped bare in under a minute. Then it's time for the women to strip – down to leotards, sports bras or even underwear – to try on the gowns right on the sales floor. 
                                                                                                                                                        If it doesn't quite fit, a seamstress can do the trick, and the bride can still come out way ahead. But what happens if a petite bride found she pounced on a size 14 dress in pink chiffon instead of a size 4 in white satin?  That's when the real fun begins, as the women start bartering to find the right designer or size. It's a ritual that turned Filene's Basement into an old-fashioned bazaar.
FILENE'S BASEMENT is at 176th and Biscayne Boulevard in Aventura. Store hours for the sale are 8:00am to 9:00pm. Checks, credit cards and cash are accepted. Wedding gowns are not returnable. For more information visit www.filenesbasement.com and click on Our World-famous Bridal Event. 
FILENE'S BASEMENT, INC.