Archive for
March, 2010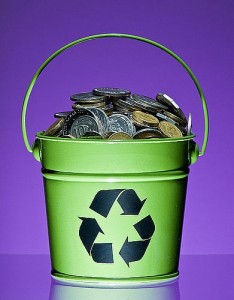 While being green is often associated with being expensive, it doesn't have to be. Here are some tips on how you can save money while doing what is best for the environment!  
Bring Lunch: It reduces waste from takeout lunches like styrofoam, plastic, and paper; while saving you five to ten dollars a day!  

Eat Vegetarian (at least occasionally):  It is believed that raising animals for food is contributing to global warming. Vegetarian alternatives like pasta and beans are much less expensive than meat! 

Shop Online: It is a more eco friendly way of getting what we need; saving gas and many grocery bags. There are also great online deals and coupons that can save you 10-15% or more! 

Buy Bulk: It reduces the amount of wasteful packaging and trips that you will have to take to the store, it saves money in the long run. 

Buy Used: If you do so, it cuts down on the emissions from manufacturing and transport of new goods. Buying used things are always cheaper than brand new; just make sure to look for gently used while shopping online!  

Just a word of caution about buying used:  BUGS - MOTHS – SILVER FISH – BED BUGS.  A friend of mine made a 'like new' purchase on ebay of a white wool skirt.  The only problem was the skirt came complete with moth larvae, which infested her whole closet.  Sure, you can purchase used, but ALWAYS send it out for professional cleaning BEFORE you add it to your wardrobe or household decorations. 

On line billing and bill payment: Cable companies are doing it. Utilities are doing it, and if your cleaner is a member of the Green Cleaner Council they may be doing it too!  Sign up for on line billing and payments whenever possible.  It saves paper, transportation costs and time! 

Pick up and delivery services from your drycleaner: Make use of your cleaner's pick up and delivery services.  There is an economy of scale attached to one cleaner travelling to many homes, as opposed to each customer making a trip to the cleaner. Saves you time too!  
Visit www.greencouncilcleaners.com to find a GREEN cleaners near you!

.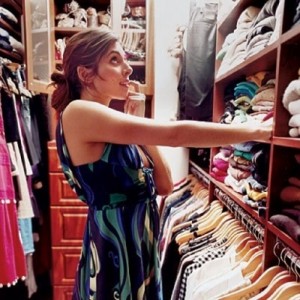 So you've picked up your favorite garments from your favorite dry cleaner. They're wrapped snugly and safely in their fresh new plastic bags. You hang them carefully in your car, close the door gently and head back to be reunited with them at home.
 
But what comes next for them – especially if you won't be donning them for awhile? How best to show them the love and protection they so clearly deserve (and quietly desire)?
 
For starters, don't let them linger in those plastic bags for too long. In fact, it's best to free them as soon as you get home. Why? Because if left in these bags for any length of time, the plastic will actually cause humidity to condense inside, weakening the fibers.  So bag the bags as soon as you can. But don't just throw them away – recycle if at all possible.
 
Once you've removed your garments from their temporary plastic shells, you'll want to hang them up if at all possible. Use plastic, wood or padded hangers, never metal. Place acid-free tissue paper over the top to prevent dust from settling on the shoulder area. Or use a traditional dust cover.

If you're storing coats or jackets, you might also consider stuffing the arms with acid-free tissue paper or washed, unbleached muslin (a type of loosely-woven Middle Eastern cotton fabric). If you have an extra special suit or dress to store, you can keep it even safer by draping a 100% cotton sheet over it. You can also use a muslin bag here.
 
If you must put them in a dresser or on shelves, place acid-free tissue between each garment. Washed, unbleached muslin is another option here.
 
When it comes to proper care and storage of your garments – and selection of an ideal storage space – it's best to keep four words in mind:
 
Dark. Dry. Cool. Clean.
 
Storing your garments in a dark place will prevent any fading or discoloration. Housing them in a dry area guards against mold, mildew and insects. Keeping them cool takes the heat – which can break down some fibers – off them. The clean part you won't really have to worry about. After all, that's why you took them to the dry cleaners in the first place, right? Just make sure that the location you store them in is as clean as your garments themselves, or at least close.
 
When it comes to selecting a storage space for your garments, it's best to keep them away from attics or basements. While these secret hideaways often fit the "dark" criteria, they are often home to excessive heat and moisture (the enemies of "cool" and "dry"). And we all know that "clean" doesn't exactly accompany them very often. In addition, these places are often strongholds for moths (and sometimes even more nefarious creatures).  Instead, consider a dark closet in an area of your home that tends to stay cool – without getting too damp. Ideally, you don't want your storage space to ever exceed 75 degrees Fahrenheit.
 
Having your garments cleaned prior to storage is also the most effective way to prevent moth damage – especially when it comes to clothing made of natural fibers like wool, silk and cotton. Moths feed on particles and invisible stains left by food, beverages, perfumes, sweat and body oils. And they're also drawn to the proteins in natural fibers.
 
If you want to go the extra mile to guard against moths, you can use cedar in your storage area. Unlike mothballs, cedar is non-toxic to people and pets, and the cedar oil vapor kills young moth larvae. Just be sure to replace the cedar wood every few years, as the oil loses potency over time.
 
So there you have it. Take a little time to show a little extra care for your favorite garments, and the next time you break them out of storage, they'll return the favor by making you look – and feel – extra special too.

.