Archive for
September, 2013
Sudsies Dry Cleaners & Laundry has announced the expansion of its services with the opening of a second location in North Miami. Located at 12711 Biscayne Boulevard, the 8,000 sq ft space will act as both a customer storefront and processing facility. Coupled with its original location in Miami Beach, Sudsies offerings span Miami-Dade, Broward and Palm Beach counties.
"We're continually striving to enhance the quality of our work, and this new location helps us do just that," says Founder and President Jason Loeb. "Now, our customers can expect and enjoy even more services and faster response times."
With the location expansion also comes the expansion of the Sudsies team. Its fleet of vans offering free pick-up and delivery is expected to double in size to reach all corners of the South Florida market.  New cleaning experts and equipment bring with them new operational and managerial techniques to increase production capacity and turnaround times. While primarily a processing facility, a storefront component allows for customer pickup, drop-off, alterations and general cleaning consultations. Both Sudsies locations incorporate EPA-sanctioned green cleaning initiatives including wet cleaning processes, gentle detergents, water-conserving machinery and recyclable hangers and packaging.
Sudsies' many core services include eco-friendly dry cleaning, laundry, alterations, restoration and preservation, couture work, on-site home cleaning and complimentary pick-up and delivery across Miami-Dade, Broward and Palm Beach counties. High-tech facilities, in-depth skills and expertise and customer convenience are a part of the Sudsies S.M.I.L.E. mantra to provide friendly, impacting experiences for its clientele. More information about Sudsies and its many offerings can be found at www.sudsies.com or by phoning 1.888.898.SUDS (7837).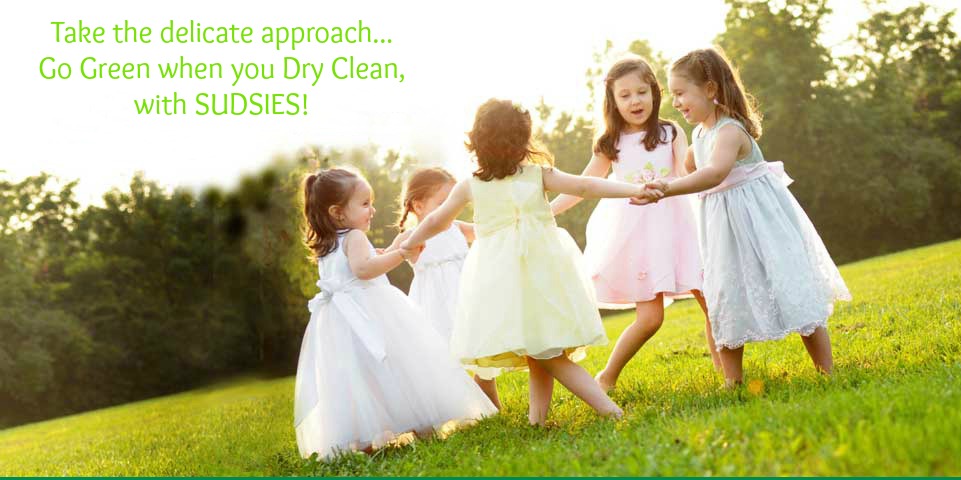 Clothing at Sudsies Dry Cleaners & Laundry will take on an even greener tone.  The South Florida-based dry cleaner announced the expansion of its environmentally-friendly cleaning department with the most recent high-performance equipment and agents.  These processes mainly incorporate Professional Wet Cleaning and Hydrocarbon Cleaning, cited by the Toxic Use Reduction Institute (TURI) in Massachusetts as among the top alternatives to traditional perc dry cleaning systems that better support environmental and consumer health.
"It's not easy being green, but it's among our top priorities here at Sudsies," says Founder and President Jason Loeb.  "We're constantly exploring new and improved ways to impart the biggest impact on our clientele with cleaner, better-looking garments, while having the least impact on the environment."
Professional Wet Cleaning is an alternative process incorporating biodegradable detergents, texture enhancers and specialized finishing equipment.  According the recent TURI report, the method does not emit hazardous air pollutants and requires the lowest electricity usage of all garment cleaning options.  Additional key environmental organizations including Natural Resources Defense Council (NRDC), Green Peace, and Sierra Club Green Home deem wet cleaning as the most eco-friendly solution.  While the technology isn't the newest of the perc dry cleaning alternatives and has its limitations, it has evolved with significant improvements to its effectiveness and safety.  New cleaning solutions and computer controlled conditions are gentler on fabrics, helping to maintain the integrity of the garment and a new-like appearance.
Despite wet cleaning benefits, there is still no single cleaning process that is perfect for all types of clothing.  To best provide high-quality effectiveness across the vast range of its in-bound clothing, Sudsies has also incorporated Hydrocarbon Cleaning to its arsenal of green alternatives.  This second innovation does not rely on any Environmental Protection Agency (EPA)-classified hazardous air pollutants to function and is recommended by the agency's Design for Environment Program.  Sudsies' hydrocarbon technology is especially suited for fragile articles, vintage wears, and intricate couture pieces, all of which are core specialities for the company.
Eco-friendly initiatives are part of Sudsies' care trifecta for its clients, clothes and environment.  The dry cleaner's full-service offerings include dry and wet cleaning, laundry, alterations, restoration services, vintage and couture care, bridal gown preservation and on-site home cleaning.  Customer convenience is further enhanced with complimentary personal pick-up and delivery to all locations across Miami-Dade and Broward counties, as well as nationally via a Sudsies Express Mail service that cleans and ships garments across the United States.
More information about Sudsies and its offerings can be found at www.sudsies.com or by phoning 1.888.898.SUDS (7837).