Archive for
October, 2013
Ok, in South Florida we may be limited in picking up the cape trend, but it IS a more reasonable alternative to traditional coats with more air flow to the body.  No superheroes here, just super fashionable.  Coverlets have been modernized in a range of ways, from cropped, to short and feminine, to long and sweeping.  For those anomaly cold days, capes can be paired with long leather gloves for an uber chic look.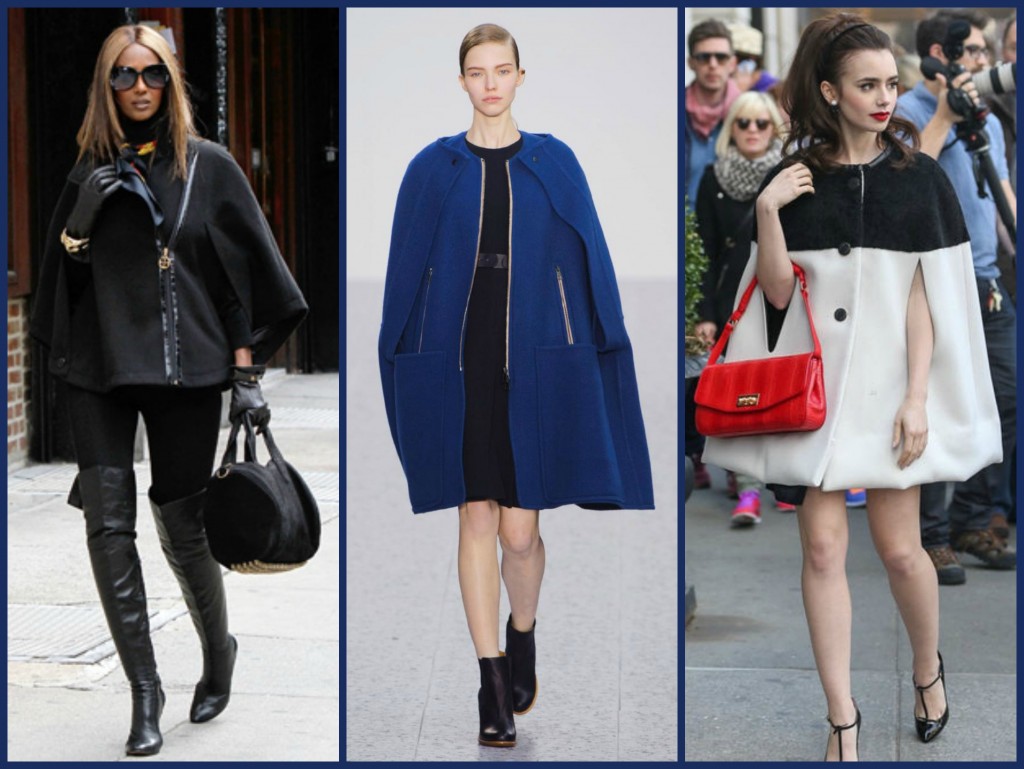 CARE CAUTIONS:
Though probably not often worn in South Florida, these garments should still be cleaned at least once during the "winter" season.  As outerwear, they are touching public spaces and coat checks, as well as accumulating makeup and hair product residues.
Before considering a cashmere option, understand that this fabric is very delicate and susceptible to microscopic abrasion.  Those with an on-the-go lifestyle may want to consider a wool/cashmere blend.
If opting for the wizard-style, bear in mind the longer hemline attracts debris from the floor and streets.  As such, buyers may want to go with a darker color to help camouflage this effect in between cleanings.
Before placing back in storage over the Spring/Summer months, be sure to professionally clean and store in a breathable garment bag of tissue to prevent mold build-up.
Need to catch up on the other parts of this series?  Check them out here!  Part One – KNITS and Part Two – LEATHER
In continuation of our Fall Fashion Fabric Guide series, we now bring our attention to leather.  A stand-alone statement piece or used in a hybrid form with other fabrics, leather was this year's "it" material.  Leather is traditionally associated with a biker or rocker vibe, but this season, designers quilted it, used as trim or paneling, and fashioned into sleek silhouettes to present it in a more sophisticated light.
Care Cautions:
This material is an animal hide, not derived and woven from plant materials; therefore is prone to some imperfections.  A leather tanner will treat and color the materials to hide much of these imperfections, but over time, these treatments will wear away, re-exposing them, much in the same manner that makeup covers up blemishes but wears off over the course of the day.
Many professional cleaners recommend recoloring after cleaning to replace the finish that is naturally lost over time.
With leather and suede, it's especially important to store in a cool place over the summer months.  Hides will stiffen from heat and humidity.  These materials are also more susceptible to moth damage.  That being said, never store in plastic, for this will only trap in heat and moisture.  A muslin cover stored indoors is the best alternative.
In case you missed it, check out the other Fall Fashion Fabrics in this Series by clicking here:  Part One – Knits.
The Sudsies Fall Fashion Fabric Guide includes six of the 2013's top fall trends.  Up first is knits! Slouchy, oversized, form-fitting, patterned, tightly woven, or intricately crocheted, knits are a classic fall go-to.  In his show, Marc Jacobs paired sweaters and pencil skirts for a new kind of "suit", while Mara Hoffman showed large pullovers with skinny pants.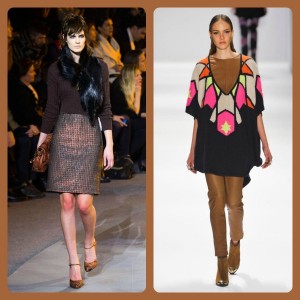 Care Cautions:
Before purchasing, keep in mind that knit fabrics are often stretched before even making it to stores during the processing process.  Knitted loops should be round.  Elongated or long loops are a sign that the garment had already been stretched.
Have extra drawer or shelf space available.  Ideally, knits should be stored flat with tissue.
If knits must be hung, use a properly-sized padded hanger for tops.  For bottoms, use a soft-clip hanger and clip so that the garment does not sag, stretch or droop.  Even if the article has hanging loops, do not use, as they will pull and distort the shape over time.
Networking is an important part of business, but try not to wear knits for functions that may require name tags, as the adhesive can create "fuzzy" damage when removed.
Avoid pushing up the sleeves.  Over time, the fabric will lose resiliency and hang shapelessly over the forearms. For South Floridians, save the knits for assuredly cool days to avoid the urge to hike up the sleeves.