Archive for
November, 2013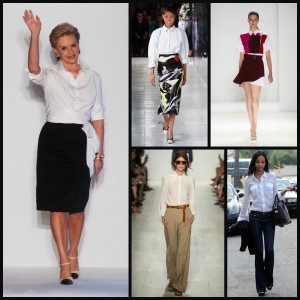 The next pick on our Fall Fashion Fabric Guide is perhaps our favorite – yep, we're talking about the white collared shirt!  Stock up, as this single garment is perhaps the most important staple, and most versatile, for any closet.  The white collared shirt is a timeless classic for its ability to complement any style.
Feeling empowered?  Pair with this year's menswear looks, choosing a traditional look or adding a sexy twist.
Feeling flirty and feminine?   Take a cue from Carolina Herrera herself and her signature look by pairing a white blouse with a full skirt.
Not a fashion risk-taker?  A blouse can also tone down any bold trend pieces, so you still look conservative, but current.
Any hairspray, makeup and perfume should be applied before putting on a dress shirt, as these are the biggest culprits that contribute to yellowing and stains.
CARE CAUTIONS:
Cleaning these shirts are not as simple as their appearance.  It is recommended that white collared shirts are not placed in the dryer, or if so, for a very minimal amount to of time on low heat.
Avoid keeping in hamper too long, as sweat and oils can start to seep in and help premature yellowing.
Shirts should be ironed when slightly damp.
Take a look back at the previous parts of this blog series by clicking here:  Part One – KNITS, Part Two – LEATHER, Part Three – CAPES, and Part Four – FAUX FUR.