Archive for
June, 2014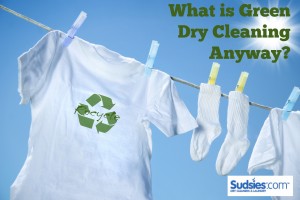 Today, many dry cleaners, ourselves included, claim to be green. But like those exasperating vague Facebook posts you sometimes come across, this doesn't really tell you a whole lot. Hence, we at Sudsies, have decided to lay out exactly what our environmentally-friendly processes are.
Before we get into it, we wanted to note that our efforts have granted us a four-leaf membership level by the Green Cleaners Council, the prestigious panel in partnership with the National Cleaners Association that reviews and ranks dry cleaning companies' eco-efforts on a strict scale of tight criteria. Here's how and why:
PROFESSIONAL "WET CLEANING"
The Rundown: Sanctioned by the Environmental Protection Agency's (EPA) Design for the Environment partnership as an environmental technology that also effectively cleans garments, "Wet Cleaning" uses computer-controlled washers and dryers with biodegradable detergents that are more sophisticated, yet milder than home versions. These specialty technologies contain various settings, (mechanical action, water and drying temperatures, moisture levels, water and detergent volume, etc.) enabling the technician to tailor the process best for a specific garment.
What this means for the environment: No hazardous chemicals are used via this process, resulting in no hazardous waste. This method also means no air pollution and reduced potential for water and soil contamination.
What this means for your clothes: No hazardous solvents mean no chemical smell left on clothes. Wet Cleaning also results in whiter whites and greater ease in removing water stains. Because of the almost infinite number of computer controlled programs available from this specialty equipment, even the most delicate garments receive care specifically tailored to their needs. This technology is great for a variety of fabrics and styles including cotton, silk, leather, suede, polyester, some wools, wedding gowns, and other garments with elaborate beading and/or sequins.
What this means for your other garments:  Despite wet cleaning's many benefits, there is still no single cleaning process that is perfect for all types of clothing. Specifically, wet cleaning is not recommended for acetate linings, antique satin, gabardine (as found with some suits, trenches, trousers, etc.), and structured garments, like coats, suit jackets, blazers, etc. To ensure that Sudsies is able to superbly process all types of clothing brought into its facility, we sometimes use the Hydrocarbon cleaning process, a perc-free, non-hazardous air solution recommended by the Toxic Use Reduction Institute, as an alternative.
Wait!… There's More: Green doesn't just end with fashion around here… Here are other eco-friendly initiatives that Sudsies has incorporated into its facilities and processes:
*     Pick Up & Delivery – saving overall time and consumption of fuel
*     Use of only biodegradable detergents and conditioners
*     Low water usage equipment – as little as one ounce of cleaning fluid per 15 garments and one gallon of water per 2,000 garments.
*     Recyclable hangers
*     Biodegradable plastic clothing covers
*     Energy Star-rated and mercury free equipment
*     Motion detectors that turn off lights when room is not in use
*      Recycled paper, glass and metal general office materials
If you would like more information about our green services, please call us anytime at 305.728.8940.