Don't let competition's website outshine you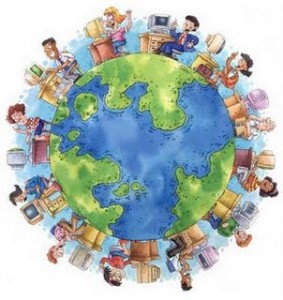 What does a local brick-and-mortar business really need to know and do to get going online? You probably think, as I did, that the first step is to develop a website.
This obvious answer came quickly: People search for information on the Internet; a website insures your presence. But a second thought tickled my mind: Is the obvious really the best answer?
So I did my homework: The decision — website or not — depends on your market, location and competition. Actually, a brick-and-mortar business may have a better chance of being found through search listings than via a new website. So, building a website may not necessarily be your first priority.
This question came from the owner of a well-established dry cleaning store. I learned that referrals provide new customers. Successfully taking on difficult cleaning tasks has built their reputation. They also do expert alterations.
When I entered "dry cleaners" and the ZIP code in Google, their store showed up within a local cluster of nine other dry cleaners — all within easy driving distance for prospective customers. Local search tools provide presence for all nine. But, looking closely, only one competitor takes full advantage of the search engine's marketing resources.
An effective local listing requires much more than entering a business' name, address and telephone number. An effective listing requires an ongoing investment of time, patience and creativity — but almost everything is free.
Start by checking your business presence with the local listing power players: Google Maps, Yahoo! Local Listings and Yellow Pages. Other local directories help you create a business profile on their pages: SuperPages, SwitchBoard and CitySearch.
Think of each of these local profile pages as a mini business website. If you create a profile on just five different platforms, you'll have five mini websites in places where prospects are likely to be looking for a business like yours.
Local listing sites may already show basic business information: name, address and telephone. They've gathered this information from other sources. When this takes place, claim the profile; then update and start enhancing with information for both users and search engines.
Without a doubt, Google Maps is the most powerful for localized online marketing. They provide applications for the iPhone and other mobile devices, as well as an automatic top spot on Google searches that specify location.
Make it a point to visit Google's Local Business Center (google.com/lbc). Their video demo provides clear and concise guidance on how best to enhance your listings. Easy-to-understand analytics help grow your business. Attract new customers by adding Google Coupons to your listing. This feature is free!
SuperPages Business Solutions provide a variety of enhancement options including do-it-yourself video ad production. Consider pay-per-click ads to maximize marketing dollars; only pay for quality leads that actually click to learn more about your business (advertising.superpages.com/spportal).
The most important listing enhancement is customer reviews and ratings. So encourage your customers: Ask for reviews and ratings, then remind them to do so with a note on each delivery. But avoid the temptation to write the reviews yourself; they never ring true.
Will you ever need a website? Look to your competition: Sudsies.com, dry cleaners and laundry. They guarantee free, on-time pickup and delivery in both Dade and Broward counties. I'd say they've got a powerful new idea. One that cherry picks the most profitable zones and customers. I'd ask if their business model is more profitable than opening new store locations.
Courtesy of The Miami Herald, September 28th, 2009, written by Jack Hardy. Here is a link to the article: http://www.miamiherald.com/business/small-business/story/1254865.html

.
Comments are closed.