Couture Dry Cleaner Named Newest Member of Luxury Marketing Council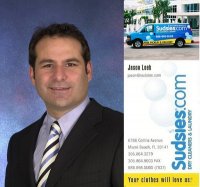 (MIAMI, FL) The Luxury Marketing Council, the intelligence source for more than 1000 global brands worldwide, announces its newest member: Sudsies Couture Cleaning, which provides dry cleaning services specifically for designer merchandise.
Serving celebrities, the affluent, and luxury clothiers throughout Miami Dade and Broward Counties, Sudsies has garnered a reputation as the finest in the industry for checking, cleaning and treating each garment by hand. In addition, Sudsies has free pickup and delivery service to anywhere in Dade, Broward or Palm Beach County, including homes, offices, and even yachts.
"We're very pleased to welcome Jason Loeb and his brand portfolio that includes Sudsies and Rugsies to our membership," said Chris Ramey, chairman of The Luxury Marketing Council Florida. "The Luxury Marketing Council is thriving because companies of all sizes and categories recognize the importance of properly serving the affluent. Even in this economic climate, 50% of the total spent in America depends upon the top 10% of our population. Our organization of the world's finest brands understands that securing this important demographic is imperative to their success."
Jason Loeb, president of the Sudsies portfolio, noted that his firm is pleased to contribute to the marketing think tank provided by the Luxury Marketing Council.
"I am delighted to be a part of such a prestigious group of luxury brands and receive market information from the people who successfully promote them. By joining the Luxury Marketing Council, I am able to obtain strategies and new data from the region's most accomplished businesses who all serve the affluent client in the South Florida arena."
Founded in 1994 as a private by-invitation-only think tank, The Luxury Marketing Council has grown to include chapters in London, Sao Paulo, Dubai, Abu Dhabi, Mumbai, Boston, New York City, Los Angeles, Philadelphia, Atlanta, Dallas, Houston, San Antonio, Austin, San Francisco, Las Vegas, Phoenix, Sarasota, Tampa Bay, Palm Beaches and Miami. Its mission is to share intelligence and create collaborations.
About The Luxury Marketing Council
The Luxury Marketing Council provides intelligence and services for those who serve and market to the world's most affluent individuals. Since 1994, its platform for consultation and collaboration has helped the world's leading purveyors of products and services find, engage, collaborate, share best practices and intelligence. The Luxury Marketing Council's unparalleled network of the world's leading brands includes Richemont, Bacardi, Mandarin Oriental Miami, Air Partner, Chanel, Four Seasons Miami, Neiman Marcus, Taglairino Advertising Group, The Sacks Group, The Ritz-Carlton South Beach, Bombardier, Salvador Dali Museum, Seraph Miami, PPI Publishing, International Polo Club Palm Beach, The Breakers, Sailfish Point, Bentley Motor Cars, Blue Star Jets, Ferretti Group, Equinox, Saks Fifth Avenue, SRQ Media Group, Camper & Nicholsons, Coldwell Banker Previews, International Design Guild, Brooks Brothers, Hamilton Jewelers, American Express, Architectural Digest, Virtuoso, Diaz-Cooper Advertising and Luxe Florida. To learn more about The Luxury Marketing Council please visit www.floridaluxurycouncil.com.
The Luxury Marketing Council Contact:
Christopher P. Ramey
561.876.8077
cpr@affluentinsights.com
The Sudsies Contact
Jason Loeb
jason@sudsies.com
Media Contact
Jackie Slatkow
Slatkow & Husak PR
slatkowpr@aol.com

.
Comments are closed.