Posts tagged
Clothing Preservation
The Sudsies Fall Fashion Fabric Guide includes six of the 2013's top fall trends.  Up first is knits! Slouchy, oversized, form-fitting, patterned, tightly woven, or intricately crocheted, knits are a classic fall go-to.  In his show, Marc Jacobs paired sweaters and pencil skirts for a new kind of "suit", while Mara Hoffman showed large pullovers with skinny pants.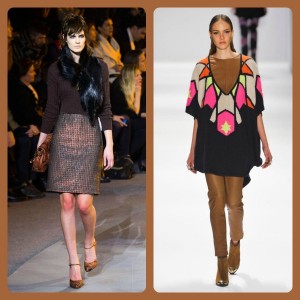 Care Cautions:
Before purchasing, keep in mind that knit fabrics are often stretched before even making it to stores during the processing process.  Knitted loops should be round.  Elongated or long loops are a sign that the garment had already been stretched.
Have extra drawer or shelf space available.  Ideally, knits should be stored flat with tissue.
If knits must be hung, use a properly-sized padded hanger for tops.  For bottoms, use a soft-clip hanger and clip so that the garment does not sag, stretch or droop.  Even if the article has hanging loops, do not use, as they will pull and distort the shape over time.
Networking is an important part of business, but try not to wear knits for functions that may require name tags, as the adhesive can create "fuzzy" damage when removed.
Avoid pushing up the sleeves.  Over time, the fabric will lose resiliency and hang shapelessly over the forearms. For South Floridians, save the knits for assuredly cool days to avoid the urge to hike up the sleeves.