Posts tagged
environmental wet cleaning
INDEPENDENT GARMENT ANALYSIS
274 NW Toscane Trail, Port St. Lucie, Fl. 34986
Tel: 772-340-0909 Cell: 772-579-5044
Web site: www.garmentanalysis.com
Sudsies Dry Cleaners
12711 Biscayne Blvd., Miami, Florida 33181
Tel: 305-864-3279
Subject: Green Dry Cleaner
Definition: A green dry cleaner is a dry cleaner that uses environmentally safe dry cleaning, finishing and wet cleaning additives.
Dear Jason Loeb,
I am writing my analysis of your premises after doing an on site inspection on May 12, 2016. I find that you are using environmentally safe dry cleaning solvents as classified by Environmental Protection Agency (EPA). Your cleaning agents are properly labeled and do not contain chlorinated hydrocarbons which are deemed to be hazardous chemicals listed by EPA. The technicians at Sudsies, using the chemicals are well trained and efficient in their application. The wet cleaning additives used are biodegradable and do NOT contain solvents or harsh chemicals.
Based on the above inspection I would classify Sudsies Drycleaners as a certified "Green Cleaner."
Dan Eisen's Credentials for evaluating dry cleaning and chemical safety:
New York State Teachers License for teaching dry cleaning and wet cleaning.
Completed all EPA courses to operate dry cleaning machines and using chemicals.
Approved by EPA for teaching environmental courses to dry cleaners.
Professional garment analyst and consultant.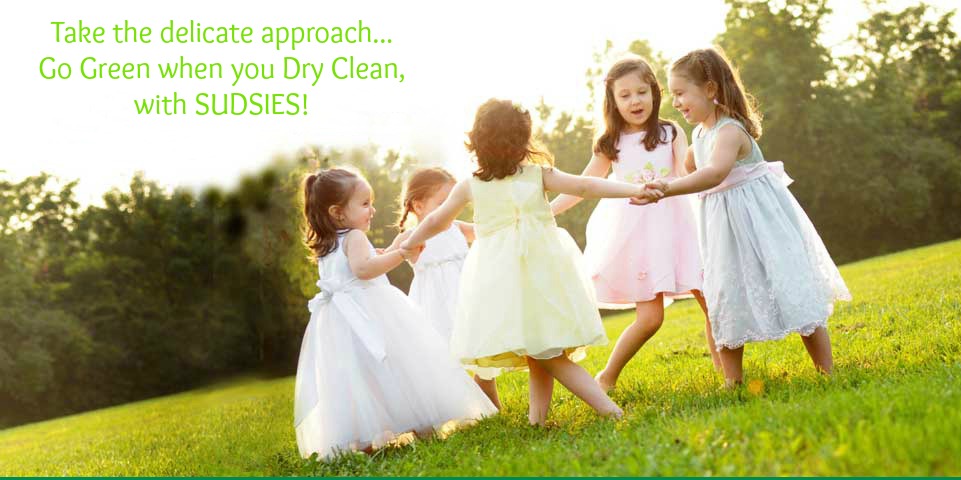 Clothing at Sudsies Dry Cleaners & Laundry will take on an even greener tone.  The South Florida-based dry cleaner announced the expansion of its environmentally-friendly cleaning department with the most recent high-performance equipment and agents.  These processes mainly incorporate Professional Wet Cleaning and Hydrocarbon Cleaning, cited by the Toxic Use Reduction Institute (TURI) in Massachusetts as among the top alternatives to traditional perc dry cleaning systems that better support environmental and consumer health.
"It's not easy being green, but it's among our top priorities here at Sudsies," says Founder and President Jason Loeb.  "We're constantly exploring new and improved ways to impart the biggest impact on our clientele with cleaner, better-looking garments, while having the least impact on the environment."
Professional Wet Cleaning is an alternative process incorporating biodegradable detergents, texture enhancers and specialized finishing equipment.  According the recent TURI report, the method does not emit hazardous air pollutants and requires the lowest electricity usage of all garment cleaning options.  Additional key environmental organizations including Natural Resources Defense Council (NRDC), Green Peace, and Sierra Club Green Home deem wet cleaning as the most eco-friendly solution.  While the technology isn't the newest of the perc dry cleaning alternatives and has its limitations, it has evolved with significant improvements to its effectiveness and safety.  New cleaning solutions and computer controlled conditions are gentler on fabrics, helping to maintain the integrity of the garment and a new-like appearance.
Despite wet cleaning benefits, there is still no single cleaning process that is perfect for all types of clothing.  To best provide high-quality effectiveness across the vast range of its in-bound clothing, Sudsies has also incorporated Hydrocarbon Cleaning to its arsenal of green alternatives.  This second innovation does not rely on any Environmental Protection Agency (EPA)-classified hazardous air pollutants to function and is recommended by the agency's Design for Environment Program.  Sudsies' hydrocarbon technology is especially suited for fragile articles, vintage wears, and intricate couture pieces, all of which are core specialities for the company.
Eco-friendly initiatives are part of Sudsies' care trifecta for its clients, clothes and environment.  The dry cleaner's full-service offerings include dry and wet cleaning, laundry, alterations, restoration services, vintage and couture care, bridal gown preservation and on-site home cleaning.  Customer convenience is further enhanced with complimentary personal pick-up and delivery to all locations across Miami-Dade and Broward counties, as well as nationally via a Sudsies Express Mail service that cleans and ships garments across the United States.
More information about Sudsies and its offerings can be found at www.sudsies.com or by phoning 1.888.898.SUDS (7837).
Green energy. Green initiatives. Green companies.
Green this. Green that. Green me with an eco-friendly whiffle ball bat.
That's right. Everyone – and everything – is going green. In fact, chances are YOU have already "gone green" (go ahead, look in the mirror…if you dare). Or if you haven't, your neighbor has (and is probably chastising you for lagging behind the times). But what does it all mean, really? Would you necessarily even know it if you've already gone green? And once you go green, can you ever go back?
Simply put, it means living a more environmentally friendly and conscious lifestyle. By choosing to do things – both big and little – a little bit differently than the ways most of us have done them in the past. You know, like recycling bottles and cans. Printing out fewer emails. Purchasing more fuel-efficient automobiles. Biking and walking to local spots. These are all ways we can work to reduce our individual "carbon footprint" on the planet. At a time when it needs all the help it can get.  
Individuals like you aren't the only ones taking further steps toward establishing and maintaining a more eco-friendly world, however. Businesses are also getting in on the action, perhaps motivated by consumers and their increasingly healthy and conscious choices. Companies both large and small alike are researching and implementing more environmentally sound practices, and often listening closely to consumer feedback and suggestions in doing so.
Examples range from Enterprise Rent-A-Car offering "carbon offsets" (allowing consumers to fund green energy projects to compensate for polluting behavior) to New Belgium Brewery manufacturing and bottling craft beer entirely via alternative energy sources to Clif Bar eliminating shrink-wrap packaging and shipping its organic energy bars via biodiesel-powered trucks. And more and more, such examples are becoming the norm.
You can get more insight into the "greening of mainstream business," including news, podcasts, videos and job listings, by visiting
www.greenbiz.com <http://www.greenbiz.com>  – the Business Voice of the Green Economy.
The professional dry cleaning industry has also seen a surge in eco-friendly practices and businesses. More progressive dry cleaners, such as Sudsies, employ an "environmental wet cleaning" process that utilizes specially treated and conditioned water, in addition to more traditional solvents. Other environmentally friendly dry cleaner practices include instituting systemic recycling programs, conserving more energy and water, investing in technology or services that exceed regulatory requirements and educating and training staff in environmental regulations and issues.
There's even a Green Cleaners Council working to promote and reward genuine environmental sustainability efforts and expose "greenwashing." The council has established a set of benchmarks to rate dry cleaners on their eco-friendly practices, and also provides them with a forum to share their successes and discuss strategies for future growth. The scores achieved on the "blind review" also help customers determine how green their cleaner really is.
You can see how your favorite dry cleaner rates on the Green Scale by visiting the Green Cleaners Council online at www.greencleanerscouncil.org <http://www.greencleanerscouncil.org/>.

.