Posts tagged
wedding dress restoration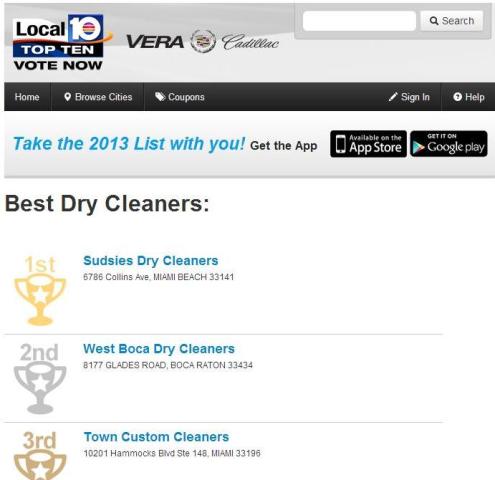 The people have spoken!  Sudsies Dry Cleaners & Laundry is officially South Florida's most beloved dry cleaner as the category winner in the 2013 WPLG Local 10 Top 10.  The television station granted the company the top ranking following a dynamic voting campaign conducted through the station's website and social media outlets.  Sudsies offers a full range of clothing and specialty item services across Miami-Dade and Broward counties, including complimentary pick-up and delivery to its clientele's location of choice.
"This is such a great honor," says Founder and President Jason Loeb of the results.  "We've developed a great team that is truly dedicated to quality of work and above-and-beyond service.  It's wonderful to see that our customers are responding enthusiastically to our efforts."
Founded in 1996, Sudsies has been a pioneer in the industry, becoming South Florida's first fully-mobile dry cleaner.  The company has expanded its services over the years to meet every customer need including environmentally-friendly dry cleaning, laundry, alterations, restoration and preservation, as well as care of couture garments, wedding gowns and other specialty items.  Most recently, Sudsies opened a second processing facility in North Miami and enhanced its customer convenience even further by offering Sudsies Express Mail services across the United States.
High-tech facilities, in-depth skills and expertise, and customer convenience are part of the Sudsies S.M.I.L.E. mantra to provide friendly, impacting experiences for its clients.  Both locations incorporate EPA-sanctioned green cleaning initiatives including wet cleaning processes, gentle detergents, water-conserving machinery and recyclable hangers and packaging.
More information about Sudsies and its many offerings can be found at www.sudsies.com or by phoning 1.888.898.SUDS (7837).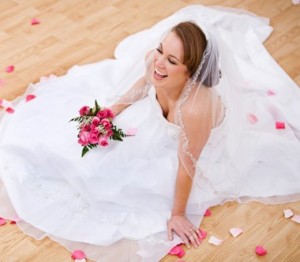 It's about that time of the year. Spring has sprung. Love is in the air. And, for many, so are wedding bells.
We can't help you when it comes to planning your Big Day. But if it's tips on preserving your wedding dress you're looking for…well, you've come to the right place. Whether it's a traditional gown that's been passed down for generations or a new contemporary designer dress you're looking to protect from the ravages of time, it should always be treated with the utmost care. Here's how.
First off, be sure to save the bag your dress came in to protect it en route to the dry cleaner. As soon as you can after your wedding, bring the protected dress to the dry cleaner you've selected, or have a friend or family member drop it off while you enjoy your honeymoon (the better option, if you can trust them).
Remember that not all dry cleaners specialize in this intensive, hands-on kind of work – although at Sudsies, we do. You might want to ask married friends or your bridal shop or seamstress for recommendations. Just be wary of any so-called "bargains" – cleaning and preserving a pricey and elaborate wedding dress requires time, expertise and equipment.
Once at your dry cleaner, alert them to any stains – a drop of champagne, a smudge of lipstick or wedding cake – as well as any glued-on ornaments and any loose stitches. The more your cleaner knows about your dress, the more detailed and personal care they can provide.
Your cleaner should provide a special acid-free box to store your dress in, and pack it in acid-free tissue paper. This specialized packaging method helps control humidity, purging oxygen and replacing it with an inert gas that makes further oxidation virtually impossible. This treatment also helps protect your gown from mold, mildew and insect damage. Just be sure to take a few moments to inspect your dress prior to boxing it up. Sometimes, even the pros miss a detail here or there.
Once back home from your honeymoon, store the dress in a temperate, dry place. Always keep it away from direct sunlight. You can also hang the dress by the bodice by sewing straps that are a bit shorter than the bodice onto the waist, placing it on a padded hanger and wrapping it in a clean white cotton sheet.
Once a year – perhaps on your anniversary – carefully inspect the dress to check for any discolored areas or stains. This is also an opportunity to allow your dress – and you – to "breathe" a little bit.
Remember, if you take as much care in preserving your dress as you did in selecting and preparing it, it can be cherished and worn as a family treasure for generations to come.

.