Posts tagged
Luis Moreno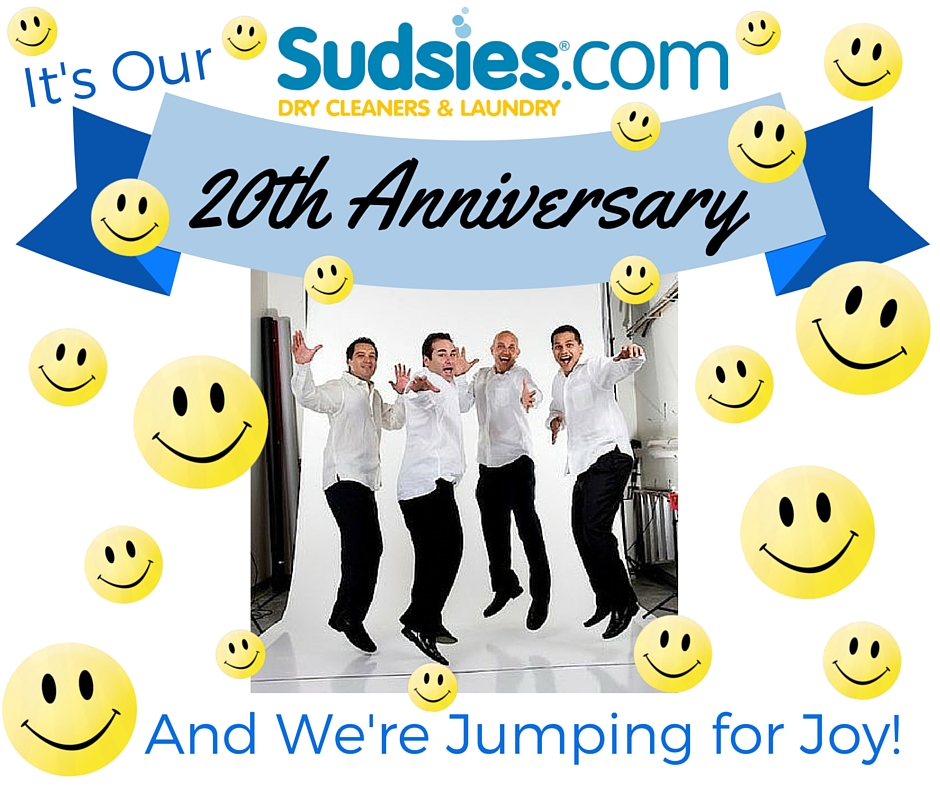 Sudsies just celebrated its 20th anniversary! The years flew by and we remember them all fondly, from our infancy as a single dry cleaner and laundry location to spreading our wings in several locations.  However, we'd say we really found ourselves in 2001.  That's when we revolutionized pick-up and drop-off service within the industry to match our customer needs: when they wanted it, where they wanted it, and how they wanted it.
We've aimed to pioneer a range of other offerings and conveniences for our clients, from daily service Monday through Saturday, a multi-tier speciality department for couture and bespoke pieces, incredible tailoring feats, sister company Rugsies that cares for fabrics and "garments" of the home, and most recently Sudsies Express mailing service throughout the United States. From the get go, we've implemented a complete environmental-friendly process incorporating our machinery, solvents, recyclables, and other thoughtful practices to help sustain very community we've been allowed to thrive in.
The people who have helped to bring up Sudises have grown significantly too. Our team has expanded from three to now more than 100 team members. It's incredible to watch some of our staff personally and professionally develop alongside the company, many who started in operations or customer service and have now worked their way up to management positions. Many of you have had the pleasure of meeting and working with General Manager, Luis Moreno, who started at Sudsies when he was just 18 years old. His tenacity, dedication, and infectious smile (one can even feel it over the phone!) make him a strong, yet inspiring, go-to leader. In fact, our entire leadership team was selected from within. It is these individuals who built the Sudsies culture and sends a message that hard work and a good attitude truly pays off around here.
When it comes to growing up, the same goes for our customers – some quite literally. Parents would come in with their children, as young as 5 years old, who we've gotten to know over the years. Today, it's these same children who bring us their suits now as young adults.
A lot has changed over these two decades, but we retain our spirit to continuously offer our customers the best service and our team the best environment.   Sudsies is always evolving to make that happen more efficiently and effectively. The candles on our cake are adding up, each one representing a proud sense of accomplishment. Our birthday wish is to be able to continue doing what we do as part of our service promise and attitude. Furthermore, we'll always spark a smile while we're at it.
Thank you for your support and commitment to Sudsies!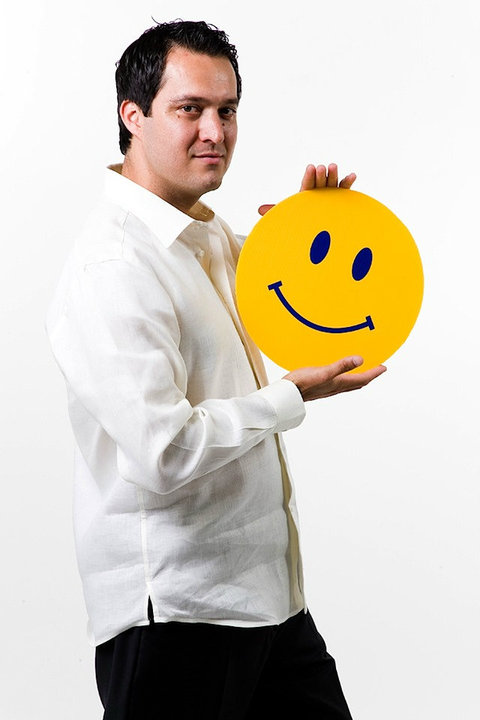 In continuation of our series highlighting the people of Sudsies, we turn our attention to Jason Cespedes. Jason has grown with the company, performing a number of different responsibilities before he took the position of Sales Manager. However, Jason said that he wasn't happy with the title Sales Manger; he felt it didn't fit his true role in the company. Thus, we've re-dubbed him Jason Cespedes, Sudsies Relationship Manager.
As Relationship Manager, Jason leads business development, earning the trust of property managers, concierges, clothing boutiques, and other fashionable influencers who help spread the word about Sudsies' services. Despite his tenure with the company, Jason's background isn't in dry cleaning or even fashion, but in hospitality.  Hospitality was his college major, and after school, he went on to manage a restaurant.
"Sudsies isn't in the dry cleaning business… it's in the people business," he explains. "We have a lot of tremendous services, but it's our hospitality-focused mindset that makes our company so successful."
While finishing up school, Jason would visit his childhood friend Luis Moreno, now Sudsies General Manager, at the facility. "I loved the high energy," he recalls. Owner Jason Loeb picked up on his enthusiasm and asked him to join the family. Eight years later, the company has grown significantly in employees, customers, and clothing volume.
Jason's success in reaching and maintaining a strong clientele base lies in his tenacity. His ringer is never off and it's not uncommon to find him doing off-hour pickups or meetings. "When you are in the service business, you've committed to making the customer happy. Therefore, you do whatever it takes to get the job done," says Jason. That means going wherever the customers are. Sudsies pick-up and delivery services include not only private homes and residential buildings, but office buildings, schools, boats… any location convenient for the customer.
Despite his hard work and sometimes long hours, Jason is consistently energetic. Coming from a humble family, he focuses on never losing appreciation for the good things in life. "I'm naturally a positive person and Miami is such a fun city. Put those two together and it's a win-win. I can't think of a better place nor better people with whom to work with."
Sure, Jason is nice and has a killer smile, but what's the real secret to his business success? "Do the right thing…even the little things, because if you start by doing those right, then the big things are going to come."
Don't know about you, but we're sold.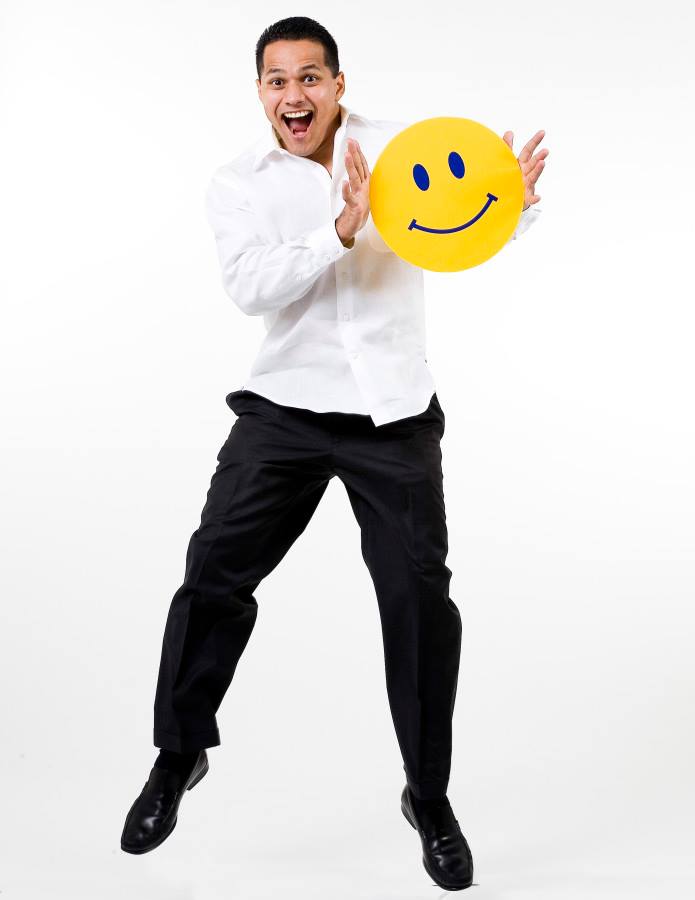 Sudsies loves highlighting special people and organizations in our backyard. But this time, we decided to look right inside our home to recognize inspirational work and attitude. So, we'd like to introduce you to Luis Moreno, general manager of Sudsies. Overseeing the operations, customer service, staffing & training, and finances, Luis' work in realizing the Sudsies vision is as instrumental as the LBD was to Coco Chanel, the red sole to a Louboutin, the Daytona to Rolex…. you get the point. 
Luis' philosophy is straightforward: Work smart, love what you do, be positive, embrace the company culture, and everything else will come together.
His career is a classic example of how to rise in ranks through a company. At 17, Luis was looking for a summer job and was introduced to Sudsies Founder, Jason Loeb, by his cousin who worked for the dry cleaner at the time. Luis' first position was to hand out flyers promoting the business during the summer. His spirit was enough to impress, and when he graduated from high school, he started full-time pressing garments in the plant. Soon after learning all the cleaning processes on the back-end, Luis moved into customer service.
"That's when I really started to love this business," reflects Luis. "I got to witness first-hand our customers enjoying the quality of work we put into their clothing."
Sudsies' internal mantra of "we're not in the laundry business…we're in the people business" captured loyalty both externally and internally. The company's team has swelled from 12 to 105 employees since Luis first joined in 1997. Sudsies now serves Miami-Dade, Broward and Monroe counties with pick-up and delivery, and the entire nation with Sudsies Express service. As Sudsies has grown, so have Luis' roles and responsibilities.
Among the many general manager duties, Luis maintains that his foremost job is to train, coach and motivate in a way that brings out the best in each team member. It is also to ensure that his managers are leading with high ethical standards. And Luis isn't just a happy face – he knows his stuff. Sudsies regularly sends him to the industry's top seminars to learn more about the latest dry cleaning and eco-friendly technology and products, speciality techniques for more delicate fabrics, designer wear and care, and other trends. Luis says this specialized professional development helps him educate the clients. Additionally, this education allows him to relate, understand, and implement improvements on behalf of his fellow employees.
"It inspires me when I see their growth," says Luis about his team. "To see that my own knowledge or guidance has helped them to emerge as better professionals only makes me want to teach more."
When asked how he maintains that smile every day, now after more than 17 years with Sudsies, Luis provides the perfect response, "Funny, I'm actually smiling now that you just said that. Simply, we have great support: our ownership, our management, our staff. We have a culture that recognizes the incredibly large and important role everyone plays in running our business smoothly. Smiling is easy when you know you're part of a great team striving for the same thing."