Located in sunny South Florida, Sudsies Dry Cleaners is a full-service, quality dry cleaning and laundry company. We offer free pickup and delivery, which means we'll pick up and deliver your freshly cleaned garments to your home, office, condominium, even your boat. So whether you live in Miami-Dade or Broward and want a quality dry cleaner, we make it easy and convenient for you. How's that for being customer-friendly?
When it comes to your garments, Sudsies is just as friendly because we clean all types of clothes from suits and dresses to shirts and blouses and even formal wear including wedding gowns and tuxedos. We also clean all kinds of fabrics including delicate silk. We specialize in couture cleaning of designer and custom-made clothing, where we hand-press and hand-finish your garments exactly how you want them.
And did we mention Sudsies is very green, too? With our eco-friendly wet cleaning process, which is endorsed by the EPA Design for the Environment program and our plastic hanger recycling program, it's no surprise we're a proud member of the Green Cleaners Council. What can we say, we're just clean, friendly people.
A core component of the Sudsies culture is empowerment. We understand you are busy and need answers and service fast, thus we trust our team to make decisions to resolve client requests and matters in a quick, satisfying manner. Empowerment also lies in knowledge. Answers and action are that much easier to provide if you understand exactly what you are doing. It's not uncommon here to find our managers attending technician training and vice versa, enabling all departments on all levels to knowledgeably speak and tend to a range of matters on the spot.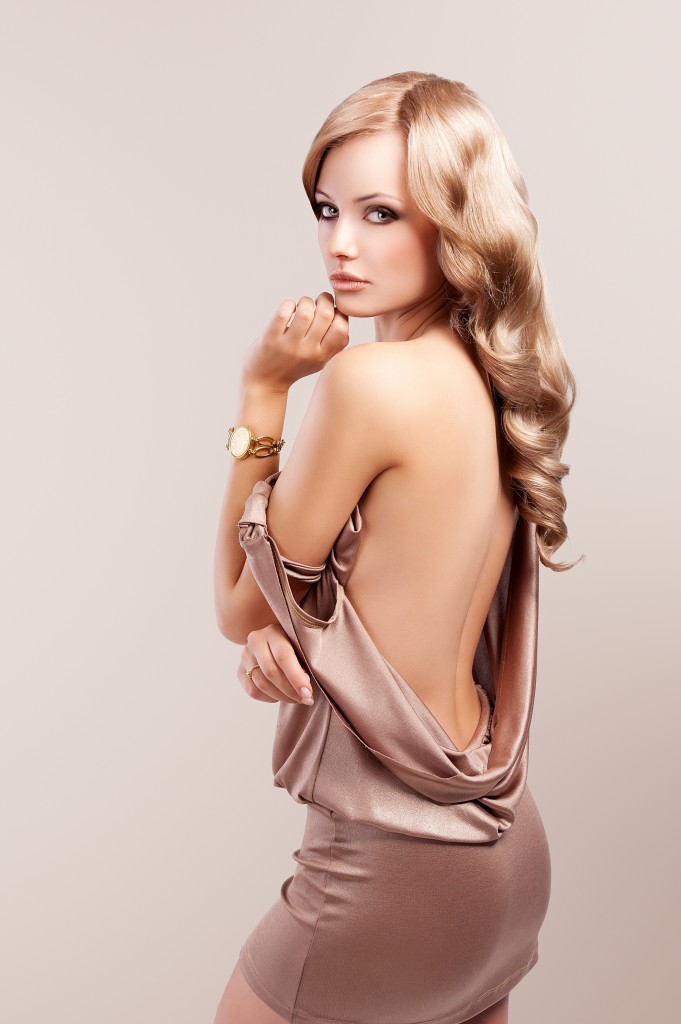 This concept is critical in the realm of business and self-growth, but also in fashion. It's interesting to see how the same outfit can look completely different on two people. Why is it that a loud sequin jacket can look like Liberace's closet find on one, yet fashionably fierce on another? …. Empowerment!
As an extension of art, fashion is meant to be bold, talked about, and even criticized. However, the real impact happens when the clothes don't speak for themselves, but are interpreted via the wearer. Like any good foundation, that wearer is strong, confident, and proud of her/his outfit choices.
So next time you are tempted by a bold look, don't lament, "Oh, I could never get away with wearing that." If everyone thought that way, we wouldn't have our favorite fashionistas and fashion moments. Empower yourself to step beyond your norm and venture into what intrigues you. If you step out owning and embracing a daring choice, then we'd say you not only got away with wearing it, but had a fashion moment of your own.
 
Sudsies' Outrageously Fashionable Favorites
Jennifer Lopez – Grammys, 2000
JLo simultaneously redefined the term plunging neckline and high slit in this famous green chiffon dress designed by Versace. When she stepped on the red carpet, she shocked us all, though many of us secretly thought ("you go, girl"). A little known fact: JLo was not the first to wear this number. Gerri Halliwell (Ginger Spice) donned the dress one month earlier at the NRJ Music Awards in Cannes, France, proving our point about the importance of empowerment in creating a memorable look.
Lady Gaga – Royal Variety Show, 2009
From her notorious meat dress, bubble mini, egg arrival, disco ball corset, sparking bustiers, and a whole lot of lace, leather, and platform shoes in between, Lady Gaga is a muse for avante garde fashion. But perhaps our favorite of her looks is the one she wore for England's Royal Variety Show in 2009. The Elizabethan period gown took a twist with red latex and a 20-foot train – an obvious choice when given the opportunity to meet the Queen, no?
For more of her greatest looks click here.
Sara Jessica Parker – Sex and the City, Season 4's "The Real Me"
From the moment we saw SJP rocking a tutu and tank in the opening credits of Sex and the City, we knew we were witnessing the next modern fashion icon. With stylist Patricia Fields, Carrie Bradshaw was a pioneer in making outrageous fashion a daily affair. The biggest testament to her empowerment was in the "fashion roadkill" episode, when she turned a runway face-plant around, instead making the audience fall for her.
This pop star beauty is adept at making the uber-sexy look classic… and vice versa. When she accepted an award for Fashion Icon at the CFDA awards, she certainly didn't disappoint in this much-talked about see through Adam Selman design. More than 230,000 Swarovski crystals provided minimal coverage (OK, basically none), causing quite the stir. But hey, a year later, we're seeing a spike in nude illusion and lace trends, aren't we?
James Dean – Rebel Without a Cause, 1955
In Golden and Silver era of dashing actors and crooners in debonaire suits, James Dean won over hearts and eyes in a simple ensemble of jeans, tee and red motor jacket. Sixty years later, this look has proven its timelessness, representing masculinity and effortless style.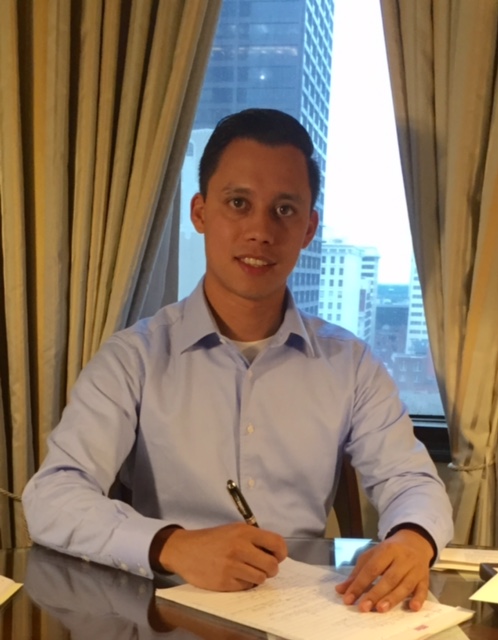 At Sudsies, we don't merely care about clothes, we care about fashion… That is, always looking and feeling your best, which is why our onsite pick-up and drop-off locations are called our "boutiques." This month, we want you to meet Henry Calix, our Retail Operations Manager, aka our ambassador who takes care of you when on Sudsies' turf.
Henry first got into the dry cleaning business upon graduating high school. He refers to his first company as a "traditional dry cleaner."
"It was hot, there were clothes everywhere, the staff was curt with answers," he recalls. "The transaction process wasn't pleasant or inviting for customers, but their clothes needed to be cleaned."
Henry pursued college studies, focusing on business before turning his attention back to the industry in 2013. Upon walking into Sudsies, he knew his experience would be way different this time around.
"The customer service was unlike anything I had ever seen." he says.
Henry fit right in, joining the Sudsies team as Customer Service Manager. Now promoted to Retail Operations Manager, Henry ensures a quality experience both look- and service-wise. The Sudsies boutiques feature light and airy atmospheres, complete with seating and personable quotes on the walls. Instead of being blasted by processing heat from the back, customers enjoy scented air conditioning. One word answers are a no-no here, Sudsies representatives engage customers in conversation from even the simplest of questions.
"I don't want our customers to feel like dry cleaning is a chore, but can be a pleasurable experience," says Henry.
Henry juggles quite a bit to ensure this serene environment for both his customers and staff. Daily responsibilities include training by Sudsies standards, staffing for timely and efficient workflow, appropriate pricing per garment, ensuring inventory is processed and returned by promise date, reuniting customer-forgotten pieces with their owner, closing any open issues with satisfactory resolution, maintaining appearance of boutique and uniforms, updating point-of-sale systems, ensuring equipment and machinery is in peak operational standards, managing supplies, coordinating website pick-up requests with delivery manifest, answering customer calls and messages, overseeing tailoring department, interviewing and hiring new personnel, and ensuring that all other Sudsies guidelines, policies and procedures are met. WHEW!
Of all these responsibilities, Henry divulges the most important one in his opinion: enhancing the company culture.
"In business, you have a strategy…a business plan, a goal, a mission. All that is fine. But when you have good culture in an organization, you will not only succeed in your strategy, but you will enjoy what you do, you will love what you do, and inspire others to do the same."
This includes seeing to the customer from beginning to end, and beyond. Henry recalls one of his favorite customer stories with a client who was relocating to California. He was in the boutique picking up his last order before the big move. As Henry helped him close his account, the customer mentioned how the journey was bittersweet. After the customer left, Henry went outside to snap a picture of the Sudsies fleet in the Miami background and sent him the image as a fond farewell and reminder of his time here.
"The client wrote back, saying he was touched," recalls Henry. "It's important that they know that even after they are gone, our customers are always remembered and appreciated."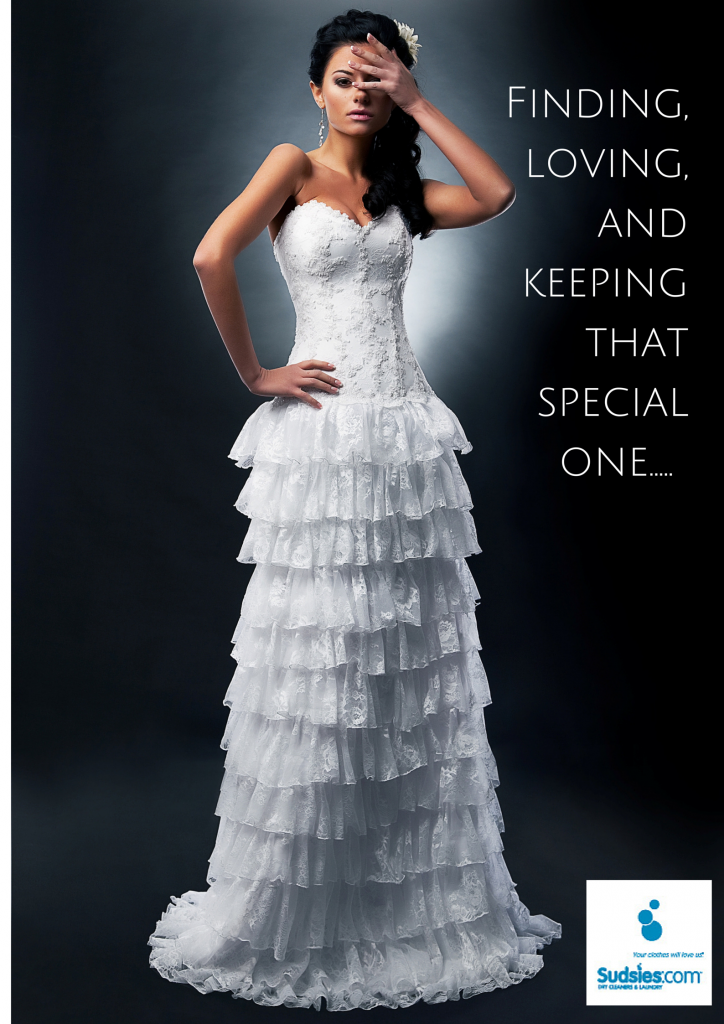 Sudsies has compiled a checklist to help you prepare for your ultimate fashion moment… your wedding day: Read the rest of this entry »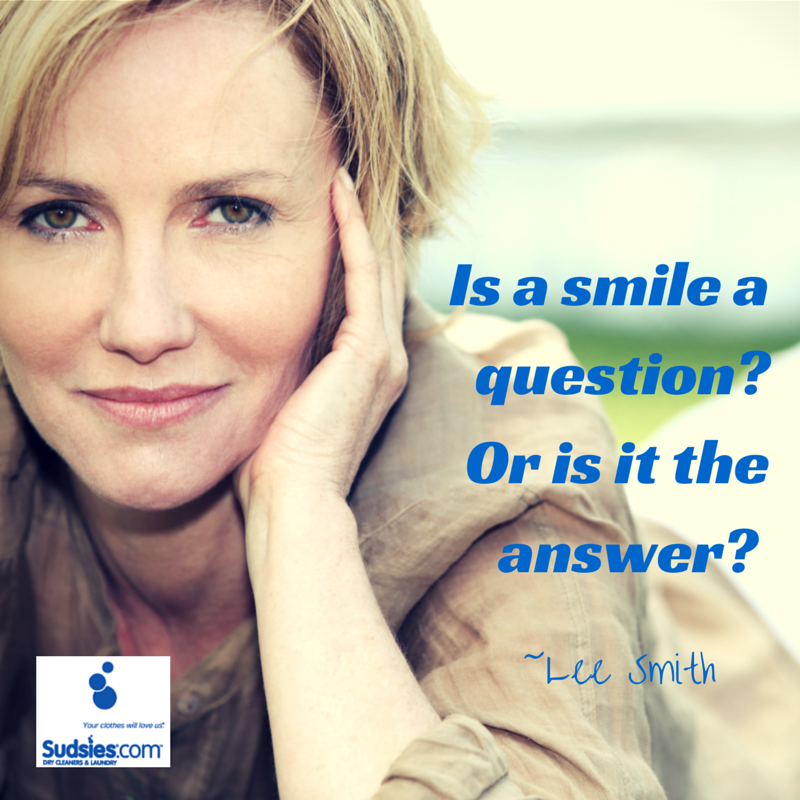 We'd like to think that we are a unique dry cleaner. We try to do more than simply make you look good.  We want you to feel good too.  So, here at Sudsies, we emphasize smiles… and not just theoretically. Turns out, there is real science behind the positive effects of this simple gesture.
Smiling Causes Happiness
Can a mere facial expression snap you out of a mood? A 1998 study in the Journal of Personality and Social Psychology indicates yes. Students were asked to view images of people with positive or negative expressions, with some asked to mimic the expressions they were viewing. Those who simply viewed the images found no change in their mood; however, those who smiled or frowned back found a positive or negative change in their mood, respectively. Furthermore, participants who viewed themselves in the mirror while smiling found even greater changes, indicating that the visual feedback creates self-awareness of the mood-related expressions. So, even if you can't find someone to smile with you, a glimpse of your happy face can do the trick!
… Even When Forced
Turns out your smile doesn't even have to be sincere to reap the positive effects. A study last year in the Journal of Physiological Science used chopsticks to put smiles in place on its subjects. Those with the broadest smiles (the kind that involves eye crinkling) recovered from varying stressful situations far quicker than those with smaller smiles and those with neutral expressions. So even if you don't feel like it, grin and bear it… you might just feel better.
Smiling Makes You More Attractive
Smile,s in of in themselves, are beautiful, but they can actually make you appear more beautiful too. Research in 2003's Neuropsychologia found that viewing attractive faces activated the brain region responsible for processing sensory rewards. Activity in this region sparked for all "pretty" faces, but was even stronger when the attractive faces were smiling. Another study by Orbit Complete discovered that 69% of people find women more attractive when they smile over than when they wear makeup. Why spend all that money on skincare and beauty products when a smile is free?!
Smiling is Good for Your Health
They say laughter is the best medicine. The book Cognitive Neuroscience of Emotion states that smiling activates the release of stress-fighting neuropeptides, specifically the feel-good ones– dopamine, endorphins and serotonin, which all act to lower your heart rates and blood pressure. Furthermore, endorphins are known to act as a natural pain reliever. We're not saying a smile is going to cure a major migraine, but if accumulated over time, you might find yourself both more happy and healthy.
And the most important thing to know about smiles… They are contagious
Research from the University of North Dakota reports that 50% of people reciprocate a smile. Ok, so half might not seem that overwhelming, but then compare it to the nearly 0% of people who reciprocated a frown. Now, we're impressed. Regardless, passing on a smile can't hurt – a Scandinavian Journal of Psychology study found that it takes conscious effort to actually frown when witnessing a smile.
So, today, try to give a smile to at least five people… you never know what positive effects may result.
In addition to handing out free smiles with clean clothes, here are some other ways Sudsies adds that extra pep to our customers' day.
Complimentary pickup & delivery to whatever location you prefer (home, office, boat, park, car… you name it)
For those that do visit our facilities, it's our pleasure to carry your freshly pressed items to the car for you
Special efforts for special requests
Recognizing important milestones for our clients: birthdays, anniversaries, etc. (If we don't have it, please share with us so that we may offer a celebratory token on your special day.)
Environmentally-friendly practices incorporating EPA-approved processes.
Now, smile . . . and make it a great day!
---
Sources:
http://web.psych.ualberta.ca/~varn/bc/Kleinke.htm
http://longevity.about.com/od/lifelongenergy/a/Beat-Stress-With-A-Smile.htm
http://www.psychologicalscience.org/index.php/publications/observer/2010/december-10/the-psychological-study-of-smiling.html
http://www.pickthebrain.com/blog/15-fascinating-facts-about-smiling/#cP80MhdJxrZJ7xRQ.99
https://www.psychologytoday.com/blog/cutting-edge-leadership/201206/there-s-magic-in-your-smile
http://www.npr.org/templates/story/story.php?storyId=97848789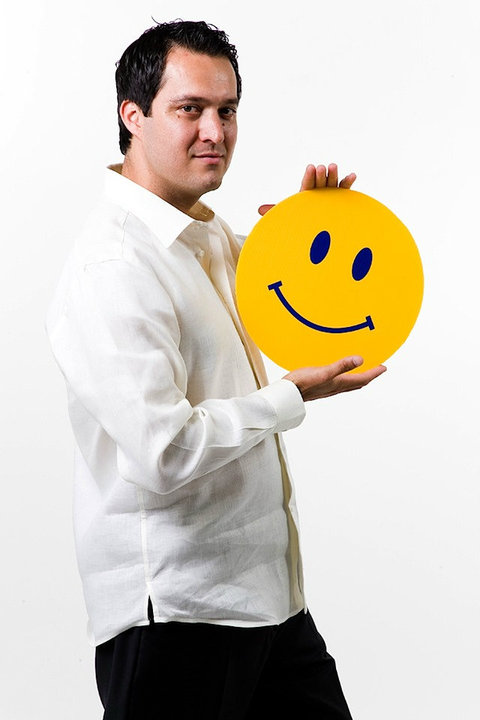 In continuation of our series highlighting the people of Sudsies, we turn our attention to Jason Cespedes. Jason has grown with the company, performing a number of different responsibilities before he took the position of Sales Manager. However, Jason said that he wasn't happy with the title Sales Manger; he felt it didn't fit his true role in the company. Thus, we've re-dubbed him Jason Cespedes, Sudsies Relationship Manager.
As Relationship Manager, Jason leads business development, earning the trust of property managers, concierges, clothing boutiques, and other fashionable influencers who help spread the word about Sudsies' services. Despite his tenure with the company, Jason's background isn't in dry cleaning or even fashion, but in hospitality.  Hospitality was his college major, and after school, he went on to manage a restaurant.
"Sudsies isn't in the dry cleaning business… it's in the people business," he explains. "We have a lot of tremendous services, but it's our hospitality-focused mindset that makes our company so successful."
While finishing up school, Jason would visit his childhood friend Luis Moreno, now Sudsies General Manager, at the facility. "I loved the high energy," he recalls. Owner Jason Loeb picked up on his enthusiasm and asked him to join the family. Eight years later, the company has grown significantly in employees, customers, and clothing volume.
Jason's success in reaching and maintaining a strong clientele base lies in his tenacity. His ringer is never off and it's not uncommon to find him doing off-hour pickups or meetings. "When you are in the service business, you've committed to making the customer happy. Therefore, you do whatever it takes to get the job done," says Jason. That means going wherever the customers are. Sudsies pick-up and delivery services include not only private homes and residential buildings, but office buildings, schools, boats… any location convenient for the customer.
Despite his hard work and sometimes long hours, Jason is consistently energetic. Coming from a humble family, he focuses on never losing appreciation for the good things in life. "I'm naturally a positive person and Miami is such a fun city. Put those two together and it's a win-win. I can't think of a better place nor better people with whom to work with."
Sure, Jason is nice and has a killer smile, but what's the real secret to his business success? "Do the right thing…even the little things, because if you start by doing those right, then the big things are going to come."
Don't know about you, but we're sold.
With today's hectic lifestyles, who doesn't appreciate a little added convenience and short-cuts here and there? However, sometimes the offer is indeed too good to be true. Sudsies has found this to be the case with the latest trend in wrinkle resistant claims for dress shirts.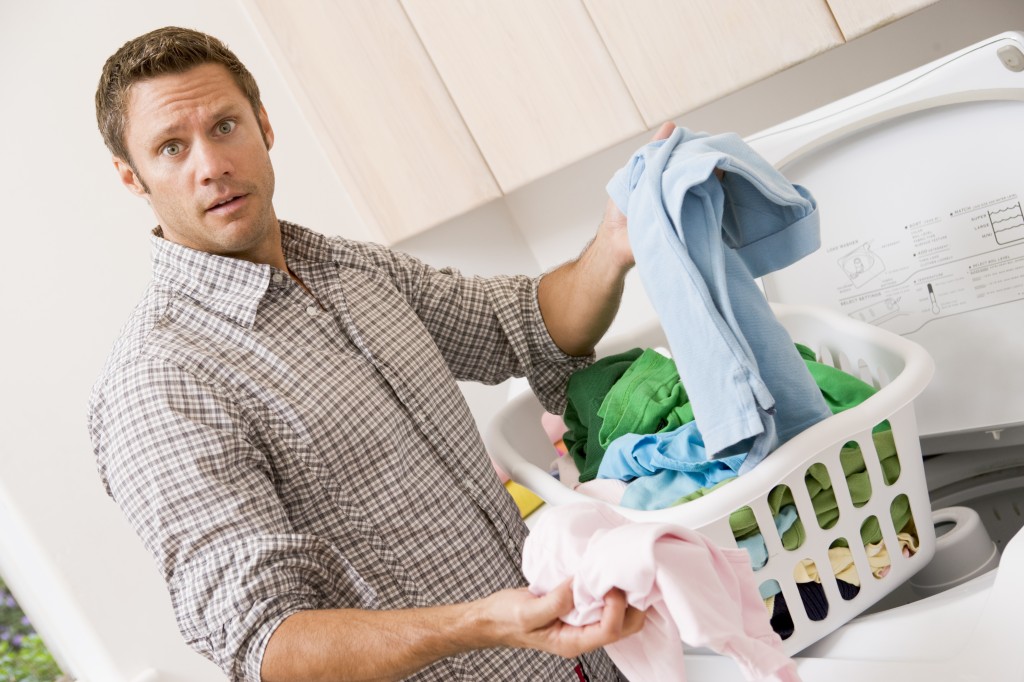 According to Consumer Reports magazine, wrinkle-free finishes reduce the lifespan of a cotton garment by 20 to 25 percent. The National Cleaners Association (NCA), a professional trade group dedicated to the research and dissemination of the latest information about professional cleaning standards and consumer welfare, followed up on this claim, elaborating the problems associated with these types of items.
NCA Technical Director Alan Spielvogel explains that the formaldehyde resin finish used to help prevent wrinkles stiffens the fibers, making them weak against bending and chafing when laundered in water. Furthermore, Spielvogel, who oversees the Association's garment laboratory analysis, says there is evidence of this same finish trapping in the residual chlorinated bleaching agents and acids used in the garment dyeing process. They are as harmful as they sound and are activated when in contact with hot water or high temps used during ironing. The result is holes, frays and other noticeable damage in as little as a few washings.
So while you may think wrinkle-free and other resistant garments may be a beneficial technology, it is actually costing you more money both in the short- and long-run. And quite frankly, it's not saving you much time either if you consistently have to go shopping to replace damaged items. It's disappointing to snag a new favorite shirt, only to have it become unwearable after a short time. Be aware that despite these drawbacks, untreated shirts are more of a rarity these days. As such, we suggest shopping at speciality stores or online sites for "resin free" options.
For those that still hate ironing, Sudsies aims to provide its clientele good-looking and eco-friendly cleaned garments WITH the added convenience of complimentary pick up and delivery from your location and schedule of choice. Furthermore, our services include providing you the most updated information about garment and cleaning trends such as this, so that you can make informed decisions when purchasing your wardrobe. To make your experience with Sudsies even more special, we always throw in free smiles.
For the full press release of the NCA's wrinkle-free warnings, click here.
During Hanukkah nights, Christmas Day, and all other holiday celebrations in between, we at Sudsies have family in mind. We happen to come from quite a large one. Bonded by dedication, passion, and hard work, our team is loyal to the Sudsies commitment to be more than a dry cleaner.  Our family provides a professional service that makes people look and feel good.
Our extended group of relatives is our incredible, impressive client base across South Florida.  Your support has helped us grow, evolve, and push ourselves to become the best we can be… and that is the true spirit of family.
BUT….as with every family, we can't help offering a little unsolicited advice. Here are some tips for clean and fashionable festivities. Best wishes for a safe and happy holiday!
1. Sequins and Texas Hair Don't Mix –  Hairspray film can dilute the sparkle and even discolor sequin garments, so be sure to make all your finishing spritzes before getting dressed.

2. Strapping Appeal – For holiday parties consider a strapped handbag so you have both hands free for cocktailing and greeting shakes and hugs. We like this Kate Spade evening bag, as it can quite possibly go with anything!
That said, straps and embellished jewelry should stay in the closet when wearing satin or silk items, as the accessories can snag the fabric easily, causing irreparable damage. In this case, we'd recommend a glamorous wristlet like this Jimmy Choo number.
3. Pump Pain – They don't call them "killer shoes" just for their good looks; we've all experienced some serious hobbling by the end of the night when wearing high heels. Taping your middle toe with your second toe from the pinkie has been rumored to relieve some of the pressure on the ball of your foot, giving you another song or two on the dance floor.

4. Air it Out – Thanks to the Duchess Kate Middleton, it is now perfectly acceptable to wear the same outfit to more than one event. However, cigar and cigarette smoke can snuff that appeal. If you don't have time for a dry cleaning in between, simply hang your garment in an area with a gentle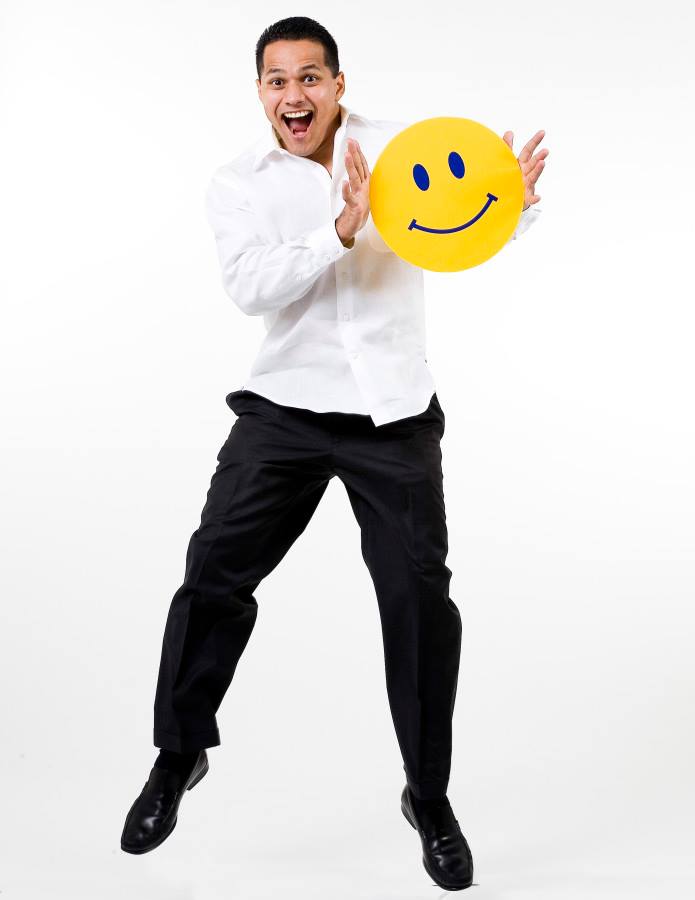 Sudsies loves highlighting special people and organizations in our backyard. But this time, we decided to look right inside our home to recognize inspirational work and attitude. So, we'd like to introduce you to Luis Moreno, general manager of Sudsies. Overseeing the operations, customer service, staffing & training, and finances, Luis' work in realizing the Sudsies vision is as instrumental as the LBD was to Coco Chanel, the red sole to a Louboutin, the Daytona to Rolex…. you get the point. 
Luis' philosophy is straightforward: Work smart, love what you do, be positive, embrace the company culture, and everything else will come together.
His career is a classic example of how to rise in ranks through a company. At 17, Luis was looking for a summer job and was introduced to Sudsies Founder, Jason Loeb, by his cousin who worked for the dry cleaner at the time. Luis' first position was to hand out flyers promoting the business during the summer. His spirit was enough to impress, and when he graduated from high school, he started full-time pressing garments in the plant. Soon after learning all the cleaning processes on the back-end, Luis moved into customer service.
"That's when I really started to love this business," reflects Luis. "I got to witness first-hand our customers enjoying the quality of work we put into their clothing."
Sudsies' internal mantra of "we're not in the laundry business…we're in the people business" captured loyalty both externally and internally. The company's team has swelled from 12 to 105 employees since Luis first joined in 1997. Sudsies now serves Miami-Dade, Broward and Monroe counties with pick-up and delivery, and the entire nation with Sudsies Express service. As Sudsies has grown, so have Luis' roles and responsibilities.
Among the many general manager duties, Luis maintains that his foremost job is to train, coach and motivate in a way that brings out the best in each team member. It is also to ensure that his managers are leading with high ethical standards. And Luis isn't just a happy face – he knows his stuff. Sudsies regularly sends him to the industry's top seminars to learn more about the latest dry cleaning and eco-friendly technology and products, speciality techniques for more delicate fabrics, designer wear and care, and other trends. Luis says this specialized professional development helps him educate the clients. Additionally, this education allows him to relate, understand, and implement improvements on behalf of his fellow employees.
"It inspires me when I see their growth," says Luis about his team. "To see that my own knowledge or guidance has helped them to emerge as better professionals only makes me want to teach more."
When asked how he maintains that smile every day, now after more than 17 years with Sudsies, Luis provides the perfect response, "Funny, I'm actually smiling now that you just said that. Simply, we have great support: our ownership, our management, our staff. We have a culture that recognizes the incredibly large and important role everyone plays in running our business smoothly. Smiling is easy when you know you're part of a great team striving for the same thing."
As South Florida's top luxury dry cleaner, we at Sudsies appreciate great fashion talent. We also love our community and the people that make Miami the "Magic City." So, we thought we'd combine two of our favorite things and highlight some local designers who are, or who we predict will soon be, turning heads across the globe.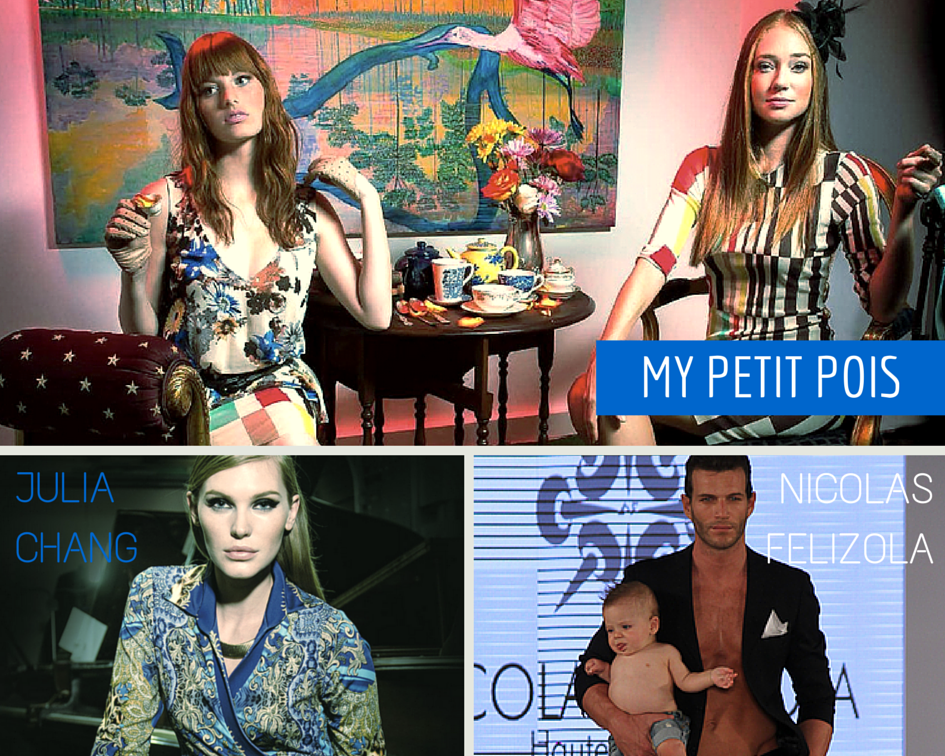 Contemporary I
Transparency is always a good thing, especially when it comes to fashion. And Viviana Gabieras (Vivian G) is superior when it comes to luxury knits and stretch fabrics. Her line, Petiti Pois, fuses everything Miami – wild prints, vibrant colors, spicy silhouettes – with a mastery that captures attention without overwhelming. In fact, we could say her work captures the best of best worlds in a lot of aspects. Her pieces make for statement staples on their own or can be combined for a powerful look and effortlessly transfer from day to night… All are proudly made in the USA via her manufacturing company in Miami, FL.
Through her work in design, humanitarianism and mentorship, Vivian G has a loyal following not only among Miamians. Television personalities, supermodels, actresses have all sizzled in her design; among them Shakira. Need we say more?
Contemporary II
With his clothes in more than 500 boutiques, Julian Chang has grown his brand worldwide, but he's still Miami's darling designer. His designs send strong statements with taste. Landscape prints, graphic patterns, and vibrant colors cascaded down the body with ease. Even Chang's simpler separates make for great basic pieces, but with a fashionable edge.
Chang also specializes in evening wear, as well as custom creations for his celebrity clientele, including Brittany Spears and Gloria Estefan. He claims that his garments merely outline the style within each its wearers. This may be the case, but then it should be noted that his works always seem to bring out their confident side.
Red Carpet/Black Tie
Miami is filled with highly-talked about affairs – social extravaganzas, that is – and Nicolas Felizola is the designer to covet. Described as a modern Renaissance Man, Felizola draws from a range of intellectual and art forms, adding photographer and attorney-at-law among his list of practices. As a fashion designer, he's known among the "Best Designer[s] of Miami Week", "Universal Excellence Award" winner, and Forbes' listee of ten influential Hispanic designers in the US.
His designs are clean, yet architecturally interesting with origami-like silhouettes or unique patterns created within his selection of lux fabrics. Collections include red carpet-worthy dresses, bridal gowns, and a men's line of sleek suits that any woman wouldn't mind placing their arm upon.
Swimwear
When you live in Miami, swimwear quickly becomes a wardrobe staple too. Russian-native, Canadian-raised Natalie Toporova quickly embraced beachside fashion, launching and running with her namesake collection based out of Miami. Bold lines and unexampled cutouts challenge the traditional bikini, fusing fashion with athleticism, and a touch of Bond-girl appeal. Custom suit creations are also available to best highlight favorite features… and creatively flatter those that are not.
Lingerie
Fashion versus function is perhaps never more apparent when if comes to intimate apparel. No matter how much accumulated, stylized lace and satins remain dormant in drawers in lieu of the go-to comfy, albeit dowdy, favorites. Co-designers Ali Mejia and Mariela Rovito set out to create a line that would flatter women's bodies, yet feel good against their skin too. Since 1996, their brand Eberjey has been doing just that. Starting with the Boy Short, Eberjey has conquered one part of the body at a time with thongs, bralets, camis, pajamas, and loungewear that defined girly-sexy-comfy style. Lush fabrics delicately cling to the skin, while touches of perfectly-laid lace seamlessly contour the body's curves.
Eberjey has since expanded its soft, feminine style with a swimwear line, but even more enticing is its darling Girls Mini swim line of suits trimmed in delicate ruffles.
Rugsies' Bonus Picks: Furniture Design
As an interior designer, Bea Pila uses space as her model to convey her clients' personal style. The hallmark of her work is custom-like pieces and other one-of-a-kind finds that are not only beautiful, but inspire use and enjoyment. But uncovering these unique pieces wasn't always easy. In fact, it was sometimes impossible.  This prompted her to expand into furniture design to fill in these missing gaps.
Thus began her game of Hide & Seek, a furnishing and accessory collection highlighting vintage acrylic in unexpected ways. Organic-meets-glamour with cushions of hair-on-hides combined with the sleek lines of acrylic and chrome, while heavy woods and mirrored tabletops seemingly float from their translucent bases. What we really love about this line is the high fashion-inspired details, as seen in the leather straps with stitching and metal accents via buckles and end caps. The results are striking statement pieces for the home that somehow fit in with any design environment.
Michael Wolk Design Associates
Michael Wolk sees no differentiation between art and furniture design. With a formal education in painting and sculpture before focusing on industrial design, he claims to use the exact same processes across all three mediums in bringing a vision to life. Furniture just happens to have the functionality. As with any artist, Wolk finds inspiration all around when creating his pieces – noting that a simple landscape hedge was the impetus for his signature Miami Chair. With vast experience, technology, and drive, Wolk's team has evolved into master technicians in supporting an idea with the highest quality materials, processes, and form. The result is a portfolio of pieces that are clean, yet stylized…. we'd call them utilitarian sculptures.
As you seek out these local gems, remember that Sudsies specializes in the cleaning and care of all types of clothing, including couture & designer labels, bridal, hand-sewn pieces and other delicate items. Our sister company, Rugsies, cares for the "garments of your home" with upholstery, drapery and rug cleaning, including stain removal services.