Posts tagged
Express by Mail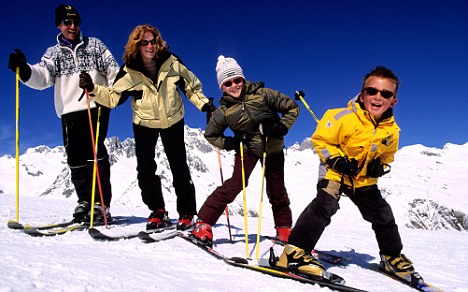 Time to replace the hot cocoa with lemonade…ski season is coming to a close.  Hopefully, you've mastered a new trick or two on the slopes, though it's likely your snow apparel underwent a little wear-and-tear in the process.  Before storing ski clothing, there's a few things you can do to ensure its in tip-top shape for when the resorts reopen.
Give all items a good cleaning to remove any excess water and prevent mold and mildew from harboring over the summer.  This includes, hats, headbands, gloves, scarves and socks (no, your boots are NOT the best place to be storing your socks).
For the extreme winter sport adventurers (or just the accident-prone), now is the time to mend any rips and tears in jackets and pants to help prevent any further damage, as well as remove stains so they don't permanently set or attract critters while in storage.
Once clean, do not store items in plastic bags or containers.  This will only lock in moisture and humidity, counteracting the benefits of cleaning beforehand.  Storing without any protectant or well-sealed coverings, on the other hand, can make clothing susceptible to insects and other pests.  Specialty storage boxes or natural cotton garment bags, such as those found at the Container Store, are good options.  Clean, ventilated suitcases are another alternative.
Ideally, avoid placing in environments prone to high temperatures.  Cool, dark, dry places help prevent any fading and mildew growth.
As for tips on extending the life of ski gear, check out this article from SkiMag.com: http://www.skinet.com/ski/article/how-store-your-ski-gear-summer
Proper storage takes a little extra effort, but come next winter, you'll be ready to hit the slopes!  Let Sudsies make it a littler easier for you…we're known for our specialty garment services and can have your items clean and ready for their summer hibernation.  For even more added convenience, make use of our new Sudsies Express Services, where you can ship your clothes to us right from your ski town and we'll prepare and have them delivered back to your South Florida home, or wherever your Summer travels take you within the USA..

MIAMI, FL — Well-heeled travelers and part-time South Florida residents no longer have to despair about clean clothes when outside the Sunshine State.  Sudsies Dry Cleaners & Laundry has announced that it will now offer Sudsies Express, whereby clients can mail their garments to the dry cleaner for care and return.  Sudsies Express is offered throughout the United States and includes all services – including cleaning, alterations, restoration and more – at regular pricing, plus the cost of shipping.
"Local or long-distance, we aim to make all our customer relationships a success," says Founder and President Jason Loeb.  "We added Sudsies Express to help assure that clients and their garments will get our reliable service, no matter where their travels take them."
The process is simple.  Customers enclose a special care form, found on the the company's website, with their garments and mail them to the North Miami facility address, where the Sudsies team cares for the items and places them freshly pressed in a garment box for return.  While all services are offered via Sudsies Express, Loeb adds that it is particularly appealing for clients with designer or couture labels, garments in need of restoration or damage repair, or vintage pieces given the cleaners' expertise and superior capabilities in working with specialty garments.  Another key user group are customers preparing to return to South Florida.  Instead of packing, they can ship their garments to Sudsies for a cleaning, followed by direct, complimentary delivery to their South Florida residence at the date and time of preference.
Sudsies continues to add offerings that enhance its quality of service and convenience for its clientele.  The company's many core options include eco-friendly dry cleaning, laundry, alterations, restoration and preservation, couture work, on-site home cleaning and complimentary pick-up and delivery across Miami-Dade, Broward and Palm Beach counties.  More information about Sudsies can be found at www.sudsies.com or by phoning 1.888.898.SUDS (7837).
About Sudsies Dry Cleaners & Laundry
Miami-based Sudsies is full-service dry cleaning company dedicated to clean clothes, clean service and a clean environment. An industry pioneer for South Florida home pick-up and delivery services, the Sudsies fleet of bubbly, blue and yellow vans offer prompt service to every nook and corner across the tri-county area, while a team of highly-trained specialists care for garments and customers with a smile. The vast range of services includes ecological dry cleaning and laundry processes, alterations and tailoring, clothing restoration, bridal gown storage or alteration and knowledge of specialty items such as couture garments. At Sudsies, customers look and feel their best, while sister company Rugsies Carpet & Drapery ensures customers live in their best with on-site home or office cleaning for carpets, drapes furniture and other home items. For more information about Sudsies, please call 1.888.898.SUDS (7837) or visit www.sudsies.com.
.