QUALITY DRY CLEANING SERVICES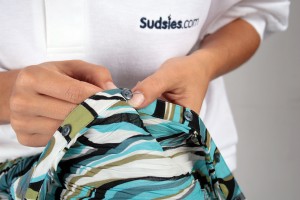 So, you know that you need to make a run to the dry cleaner. But do you know exactly where you should go? In other words, do you know just what defines a quality dry cleaner?
 
We here at Sudsies Dry Cleaners have compiled a checklist of sorts to help you find the best possible dry cleaner in your area. Enjoy!
 
1.  Proximity. By no means are we suggesting that you simply take your precious garments to the nearest dry cleaner just to save time and gas money. But it's always nice if you don't have to travel across time zones and state lines to clean your clothes. Even better, look for a dry cleaner that's willing to come to you.

2.  Free of charges. No, you're not going to find a dry cleaner – at least not a good one – that will clean your clothes for free. But if you can find one that offers pickup and delivery service gratis, you're bound to save a little bit more money. Leaving more for gas.
3.  Attention to detail. It's been said it's the little things that count. This is true in life. And in dry cleaning as well. Look for a dry cleaner that applies strict attention to detail and runs a clean-looking ship. The more detail you put into your search, the more detail (like hand-checking, hand-treating and hand-finishing) your chosen dry cleaner is likely to offer. Especially, if they know and understand what couture cleaning is all about.

4.  Green light. These days, everyone's talking about "going green". But if you can find a dry cleaner that also walks the talk, you'll be doing yourself and everyone else on our planet a huge service. Eco-friendly dry cleaners haven't always been the norm, but they are becoming more and more common. "Wet cleaning" is a good term to keep your eye out for.
5.  Adjust on the fly. Or off the cuff. From hemming a cuff on your dress to re-weaving your favorite blouse, alterations can transform your garments from old to new almost instantly. For best results, look for a dry cleaner that employs a tailor (also called a sastre) and/or seamstress on premise.
6.  Style points. Extra special clothes deserve extra special care. If you've got some fancy duds that need some attention, look for a dry cleaner that offers couture garment cleaning service – where designer garments, delicates and specialty items are cleaned, treated and pressed by hand.
7.  Restore the roar. Time, circumstance and the elements can wreak havoc on your clothes. From cleaning mildew stains off your favorite leather jacket to removing smoke damage from a classic dress, clothing restoration services are available at many quality dry cleaners.
8.  Customer-facing. Don't just get to know your new dry cleaner. Find a dry cleaner that takes the time to get to know you. This is a hands-on, intimate business, and the more interest you show in each other, the better for both parties.
 
So go ahead. Print out this list, email it to a friend or even put it in your back pocket and refer to it as often as you like. If you happen to find a dry cleaner with all 8 points that would be great. If not, then just look for a dry cleaner with the most points that are most important to you. Good luck!

.
Comments are closed.