Located in sunny South Florida, Sudsies Dry Cleaners is a full-service, quality dry cleaning and laundry company. We offer free pickup and delivery, which means we'll pick up and deliver your freshly cleaned garments to your home, office, condominium, even your boat. So whether you live in Miami-Dade or Broward and want a quality dry cleaner, we make it easy and convenient for you. How's that for being customer-friendly?
When it comes to your garments, Sudsies is just as friendly because we clean all types of clothes from suits and dresses to shirts and blouses and even formal wear including wedding gowns and tuxedos. We also clean all kinds of fabrics including delicate silk. We specialize in couture cleaning of designer and custom-made clothing, where we hand-press and hand-finish your garments exactly how you want them.
And did we mention Sudsies is very green, too? With our eco-friendly wet cleaning process, which is endorsed by the EPA Design for the Environment program and our plastic hanger recycling program, it's no surprise we're a proud member of the Green Cleaners Council. What can we say, we're just clean, friendly people.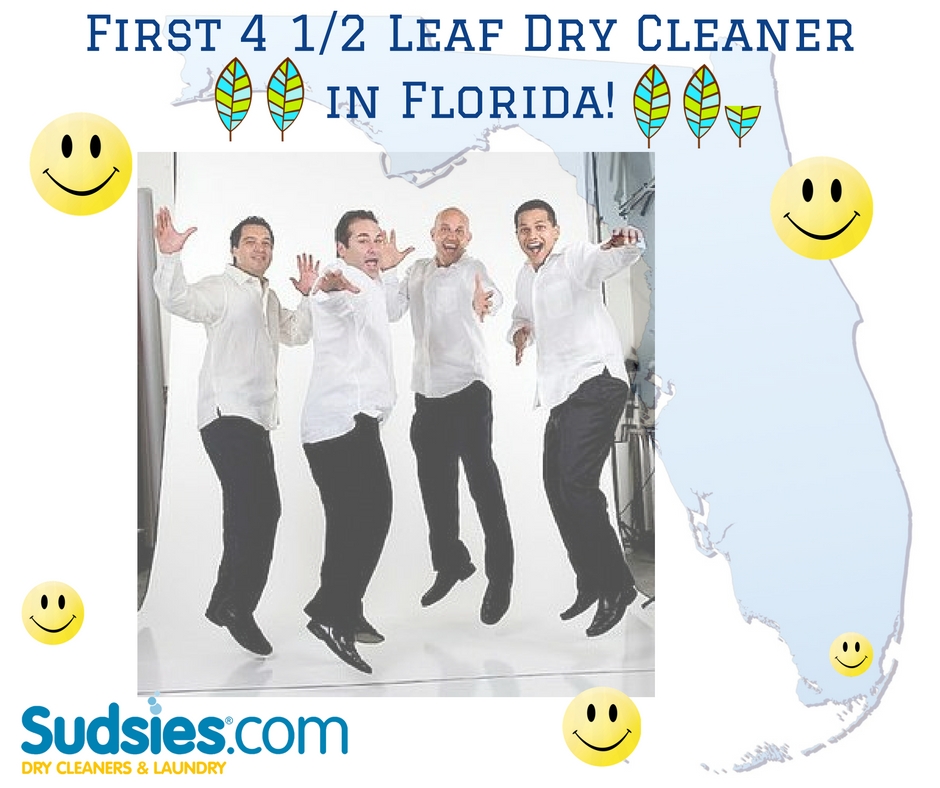 July 12, 2016
Sudsies
Mr. Jason Loeb
12711 Biscayne Blvd
North Miami, FL 33181
Dear Jason,
Congratulations Sudsies is the FIRST 4 ½ leaf dry cleaner in the state of Florida.
The Green Cleaners Council preformed an in-depth analysis of your operating practices, from the front of the store to the back, including products, water use, electricity, energy conservation, hanger recycling to name just a few. The Green Cleaners Council's set of defined environmental benchmarks verified the information which confirmed the environmental sustainability for your business.
Sudsies was rated on your total commitment to environmental sustainability programs, responsible solvent use, recycling efforts, smart energy and water conservation as is practiced throughout their entire operation. Your evaluation was based on ECO Points associated with each issue. Again, The Green Cleaner Council is proud to inform you that Sudsies has earned the highest point level for any dry cleaner in the state of Florida.
Sudsies is recognized by the Green Cleaners Council as being a very proactive and responsible cleaner that goes above and beyond for the environment.
Sincerely,
Ann Hargrove
Green Cleaners Council


Copy of letter we've received: Sudsies Green Cleaners Council 2016
INDEPENDENT GARMENT ANALYSIS
274 NW Toscane Trail, Port St. Lucie, Fl. 34986
Tel: 772-340-0909 Cell: 772-579-5044
Web site: www.garmentanalysis.com
Sudsies Dry Cleaners
12711 Biscayne Blvd., Miami, Florida 33181
Tel: 305-864-3279
Subject: Green Dry Cleaner
Definition: A green dry cleaner is a dry cleaner that uses environmentally safe dry cleaning, finishing and wet cleaning additives.
Dear Jason Loeb,
I am writing my analysis of your premises after doing an on site inspection on May 12, 2016. I find that you are using environmentally safe dry cleaning solvents as classified by Environmental Protection Agency (EPA). Your cleaning agents are properly labeled and do not contain chlorinated hydrocarbons which are deemed to be hazardous chemicals listed by EPA. The technicians at Sudsies, using the chemicals are well trained and efficient in their application. The wet cleaning additives used are biodegradable and do NOT contain solvents or harsh chemicals.
Based on the above inspection I would classify Sudsies Drycleaners as a certified "Green Cleaner."
Dan Eisen's Credentials for evaluating dry cleaning and chemical safety:
New York State Teachers License for teaching dry cleaning and wet cleaning.
Completed all EPA courses to operate dry cleaning machines and using chemicals.
Approved by EPA for teaching environmental courses to dry cleaners.
Professional garment analyst and consultant.
Move over white satin and full skirts…the recent New York Bridal Fashion Week foretold that weddings gowns are getting dramatic in new and unorthodox ways.  Don't consider yourself the traditional bride? Here's our list of the top 2017 trends that were beautiful, yet unexpected.
Tickled Pink
Pink is no longer reserved for Barbie Bride. The runways represented the full gamut, from the subtle to the vibrant.  Sabrina Dahan flecked white tulle with pastel floral appliqués. Naheem Khan and Houghton took it a step further with full silhouettes in light blush, lavenders, and peach tones. A Romona Keveza number of salmon satin embellished in darker toned flowers caught a lot of eyes, and things got wildly rosy when Christian Siriano managed to fit in the whole pink spectrum with a show stopping dress of a petal-like skirt that cascaded in ombre.
Similarly, black gowns no longer scream Morticia Adams or Elvira. Naheem Khan received a standing ovation for his ebony finale gown doused with rosettes and mantilla-inspired veil.
Nude Non-illusions
Saying vows are a moment of baring one's heart and soul… and now also the neckline, stomach, and legs. Designers Berta and Mira Zwillinger took the lead on this trend with serious close-call coverage. Yet even bridal darlings like Angel Sanchez and Monique Lhuiller represented the trend with subtle peephole lines and daring cuts under sheer overlays.
It's She Who Wears the Pants
A top emerging wedding dress trend that forgoes the dress all together. Christian Siriano sent down two options: one of a more traditional-like pantsuit, the other a sexy jumper. Lela Rose romanticized her pant version with a statement bow on the back. Carolina Herrera showcased a pant and shirt combo of her signature clean, pressed lines softened with a beautifully embroidered veil, while Monique Lhullier merged modern with traditional with a lace jumper fastened to a full train…. Who can dance in a long dress anyway?
Super Capes
Capes provided delicate modesty and a whole lot of style. The approach varied, with Marchesa sleeves flowing effortlessly down the arms, contrasted with Lela Rose's more tailored button-down version. Elizabeth Fillmore and Naeem Khan were a tad more literal, as seen in the bow tied cape and high-low poncho looks, respectively. Claire Pettibone, Berta, and Monique Lhullier also offered up fluttering cape adornments.
Time for Take Off
In a day where brides typically wear up to three dresses on their Big Day, detachable elements offered up fresh looks available in a singular garment, as well as functionality. Romona Keveza solved the hassle of pinning up trains in between ceremony and reception with a removable train. Detachable bows on select looks from Sachin + Babi Noir could be changed out for glitzy belts or arm candy in time for the party. Marchesa and Reem Acra offered the most dramatic transformations with ruffled skirts and tulle layers that could be removed to unveil a more streamlined silhouette.
No matter what style you choose, let Sudsies help you preserve memories from your Big Day with our Bridal Dress Cleaning and Preservation services. Visit here for more information.
Honduran native Jackie Zeron came to Miami with an enthusiasm to learn and try anything. Her broad background and mindset that the key to everything ultimately lies within ourselves makes her a dynamic team member as Retail Manager of the Sudsies North Miami Boutique. Jackie makes such a great effort to know our customers, that this month, we thought we'd help you get to know her a little better too.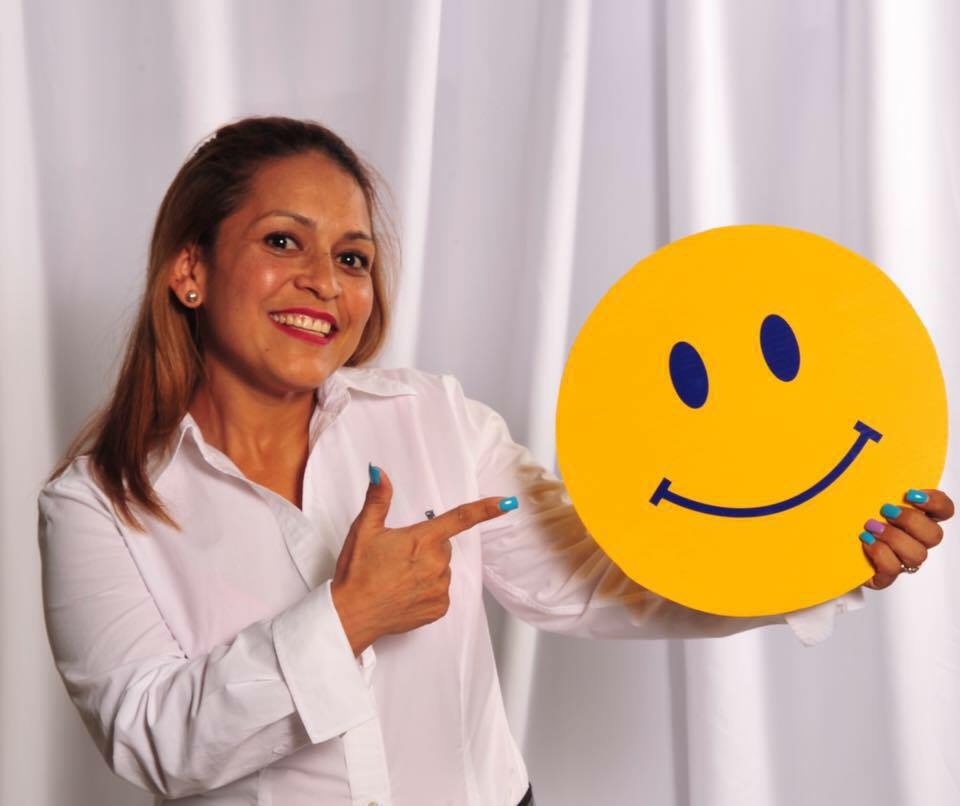 Whether she foresaw it or not, Jackie's previous lines of work could easily relate to the dry cleaning industry. Her first job upon moving to the U.S. in 1996 was at a luxury fashion boutique. There she learned about high-end clothing and presentation. She would eventually run into Sudsies CEO Jason Loeb and COO Jorge Baboun. Struck by their energy, she decided to pursue an opportunity working in the Sudsies plant as a clothing bagger. Jackie eagerly took on varying tasks and quickly grew to deeply understand the operations of all processes from beginning to end.
An innate people person, Jackie craved more face-to-face interaction and was persistent with her manager, Luis Moreno, about an opportunity to work on the front lines. Luis listened and needed little convincing to try and place her in customer service.
The rest is history…
Five years later, Jackie oversees a team of six customer service concierges in assuring that every client who enters the North Miami boutique leaves with the desire to come back. On a basic level, this entails having every order ready when promised, but that's not all. Jackie doesn't aim to merely reserve above-and-beyond service for special occasions, but provide it whenever possible. In fact, she and her team push to have orders ready early, so they can please clients by exceeding their expectations.
"I want them to leave happy," says Jackie. "We are family here and our clients should feel like a part of that."
Reflecting on her years with the company and her many roles, nothing is more personal to her than her current position.
"You care even more as a manager. The company is like your own," she says. "Sudsies culture is my culture too. I don't have to force it upon my team… it's just who we all are."
"I think I'll be here for the rest of my life. I really enjoy working with everyone." 
The feeling is mutual, Jackie.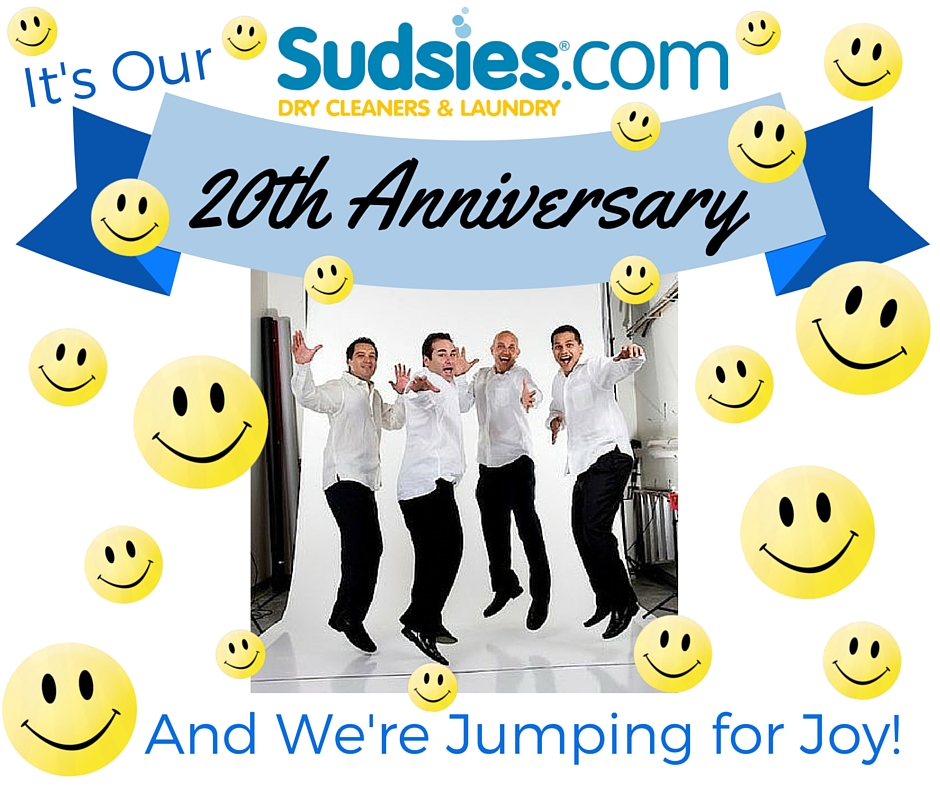 Sudsies just celebrated its 20th anniversary! The years flew by and we remember them all fondly, from our infancy as a single dry cleaner and laundry location to spreading our wings in several locations.  However, we'd say we really found ourselves in 2001.  That's when we revolutionized pick-up and drop-off service within the industry to match our customer needs: when they wanted it, where they wanted it, and how they wanted it.
We've aimed to pioneer a range of other offerings and conveniences for our clients, from daily service Monday through Saturday, a multi-tier speciality department for couture and bespoke pieces, incredible tailoring feats, sister company Rugsies that cares for fabrics and "garments" of the home, and most recently Sudsies Express mailing service throughout the United States. From the get go, we've implemented a complete environmental-friendly process incorporating our machinery, solvents, recyclables, and other thoughtful practices to help sustain very community we've been allowed to thrive in.
The people who have helped to bring up Sudises have grown significantly too. Our team has expanded from three to now more than 100 team members. It's incredible to watch some of our staff personally and professionally develop alongside the company, many who started in operations or customer service and have now worked their way up to management positions. Many of you have had the pleasure of meeting and working with General Manager, Luis Moreno, who started at Sudsies when he was just 18 years old. His tenacity, dedication, and infectious smile (one can even feel it over the phone!) make him a strong, yet inspiring, go-to leader. In fact, our entire leadership team was selected from within. It is these individuals who built the Sudsies culture and sends a message that hard work and a good attitude truly pays off around here.
When it comes to growing up, the same goes for our customers – some quite literally. Parents would come in with their children, as young as 5 years old, who we've gotten to know over the years. Today, it's these same children who bring us their suits now as young adults.
A lot has changed over these two decades, but we retain our spirit to continuously offer our customers the best service and our team the best environment.   Sudsies is always evolving to make that happen more efficiently and effectively. The candles on our cake are adding up, each one representing a proud sense of accomplishment. Our birthday wish is to be able to continue doing what we do as part of our service promise and attitude. Furthermore, we'll always spark a smile while we're at it.
Thank you for your support and commitment to Sudsies!
In a society increasingly concerned about cleanliness (anti-bacterial wipes, anyone), Levi Stauss & Co. CEO Chip Bergh has most of us saying "whaaa???" when he suggested at the May 2014 Fortune Brainstorm Green conference to stop washing our jeans… for good.
The reason was two-fold:  to preserve water and to prevent premature wear and fade. While these are certainly valid motivators, the idea of less than fresh jeans didn't sit well with us. Apparently though, there are plenty of cleaning alternatives beyond a spin in the washing machine. We looked at some of the unconventional picks:
Freezing
What to do:  Move over ice cream! True "denim heads" claim that freezing your jeans kills bacteria and restores a fresh, albeit chilly, scent. Simply place pants in a zip lock bag and store in the ice box for at least five to six hours. Interesting enough; however, in an analysis by Business Insider, scientists say that freezing doesn't in fact kill most bacteria, but merely puts them in a dormant state, only to awaken once thawed out. Furthermore, the type of bacteria jeans acquire is in question. Unless one if working in extremely dirty or hazardous conditions, jeans mainly harbor skin microorganisms from our own bodies, which are generally not harmful.
Harmful or not, the idea of something other than us living in our jeans and odors isn't exactly appealing. Scientists suggest that airing these garments outside in sunlight is a more effective cleaning/deodorizing approach.
Bathing
What to do:  Some denim aficionados avoid cleaning their jeans for up to 12 months in effort to preserve the softness, color, and fit accumulated over time. When they are finally ready for a refresher, many resort to good old hand washing. Men style site IAmAlphM.com recommends the following:
Fill a bathtub with 3-4 inches of cool to lukewarm water.
Add a small amount, about 1/2 of the manufacturer's recommended dosage, of gentle, non-bleach, dark-color-saving laundry detergent (such as

Woolite Extra Dark Care

) to water.
Turn the jeans inside out and lay them flat in the tub. Use something weighted to keep them submersed.
Let them soak for 45 minutes.
Empty the soapy water and rinse the jeans in cool water to remove the detergent.
Remove the jeans and hang upside down to dry.
Screw It!
What to do:  For those of you who do not mind a little fade or re-breaking in now and then in favor of feeling fresh, there are a couple of options that still address the water waste issue. Sudsies offers dry cleaning and laundering services, both of which incorporate low-energy, low-water usage machinery and environmentally-friendly cleaning solvents. Sudsies also provides hand-cleaning techniques, which can help preserve the original state of the denim. Added bonus: now you can restock your freezer with those favorite Haagen-Dazs flavors.
For more information about Sudsies cleaning habits, please visit us www.sudsies.com.
Sources:
On the front lines, we hope that our customers have experienced nothing but prompt service, a friendly attitude, and impeccable clothing. This year, we'd like to take our relationship with our customers to the next level and are extending a key to our place for a behind the scenes tour of our facilities.
As with any potential partner, it's useful to get to know and understand how he/she works. In fact, everyone should be able to ask and be granted a tour of their preferred dry cleaner location. Some things to look for as you view the facilities:
Heartwarming or hilarious, there is nothing like a great holiday classic. For two hours, families can put aside any stresses or squabbles and join together to laugh at the dysfunctions of other families or simply be reminded of the true spirit of the season. Of course, being in the clothing business, we can't help but hone in on the fashion of our favorite characters. Here are some of the most memorable holiday looks beyond the 'ol Santa suit.
A Christmas Story: Randy's Winter Wear
Sudsies Synopsis: Nearly every childhood is subjected to aggravating wardrobe insistences from Mom. The matriarch of this tale tried to protect her youngest from midwest winters with a red snowsuit of duvet-like proportions that had Randy lamenting (more like muffling from his scarf mask), "I can't put my arms down!" Well, at least he's warm.
Accompanying Services: This little guy could probably benefit from a little tailoring. Our alterations department is precise, ensuring a good fit in both form and function, which would help Randy keep up with the boys on the playground.
Elf: Buddy's North Pole Uniform
Sudsies Synopsis – Put a grown man of 6' 3" stature in yellow tights and you're bound to stop traffic (and supposedly Will Farrell did just that while filming on the New York streets). Buddy The Elf's outfit was as festive as his personality, albeit more of a Green Bay Packer's color scheme than holiday.
Accompanying Services: Sudsies spot experts are adept are removing all sorts of stains, including maple syrup. Hand cleaning is imperative for delicate items, such as those infamous tights, fur trimmings, and quirky pointed hat.
Scrooged: The Solid Gold Dancers
Sudsies Synopsis – Programming executive Frank Cross (Bill Murray) knew how to put the spectacle in a Christmas spectacular. Dancers cinched in black bustiers, barely-there briefs and oversized lace headpieces had the network censors sweating, but the controversial costuming stuck in both the show and in our minds. Fun fact: Scrooged marked the final appearance for dance troupe, as the Solid Gold television show was canceled by the time the movie reached theaters.
Accompanying Services: Sudsies is adept in cleaning costumes. In fact, we work with many performing arts groups and organizations to ensure garments are fresh and stage ready. We pick up and deliver directly from and to theaters and provide quick turnarounds. If the show must go on, it might as well look great too.
White Christmas: Finale gowns
Betty (Rosemary Clooney) wowed us with her pipes and Judy (Vera Ellen) stunned with limber dance moves throughout the film. Though, it was the final number that was truly magical, with an open set among snowflakes, tiny ballerinas, and crystal-coated Christmas trees. The sisters donned red velvet gowns that cinched at the waist before cascading to the floor. Simple jewel embellishments and fur trimmings reflected just how glamorous the "Golden Era" was.
Accompanying Services: Sudsies is lauded for its couture services, where designer garments and other high-end pieces are hand-treated. Velvet, silk, sequins, lamé, cashmere, fur…. there isn't a luxe material we haven't met and loved working with.
Bridget Jones' Diary: Darcy's Christmas Jumper
Sudsies Synopsis: When Mark Darcy (Colin Firth) first turns around at the New Year's party, revealing a mock neck sweater imprinted with a giant Rudolph head, let's just say it wasn't love at first sight. But a few more awkwardly endearingly exchanges with Bridget, and he won us over too. Ugly Christmas sweaters or not, we like him very much. Just the way he is.
Accompanying Services:  After the holidays, be sure to bring in your seasonal wares for a good cleaning before putting them back in storage. Services include a proper folding to minimize crease marks. Then, all you have to do is remove the plastic wrapping and place in cool, dry place.
Our alterations department is more than nips and tucks, they can perform full on fashion surgeries. We ask Sudsies Head Tailor, Rafael Santos, about what it's like behind the seams.
1.  What should one look for in a good tailor?
Like any craftsmen, you need someone who is meticulous. I mean this in two ways. First, good tailors pay attention to the details, for in
fashion
, it's the detailing that makes a garment so interesting. What makes a good tailor great, however, is when that meticulousness is applied to listening and being able to provide 
customers exactly what they want
. The most beautiful clothing means nothing if the wearer doesn't feel great in it.
2. What are some of the trends you are seeing today?
Right now, it all about fitted clothes. We get a lot of men who want to taper their suits to match this style. I think this trend stems from today's focus on healthier lifestyles and celebrating our figures. We've had several customers who underwent complete body transformations. Rather than buy completely new wardrobe, we've reworked their favorite pieces to fit their new figure.
3. What is the most unusual tailoring job you did for a client?
I'm not sure about the most unusual, but certainly the most tedious was a black & white piece that came in for a 
cleaning
. The contrasting colors threatened to bleed over into the other and ruin its striking effect. So, the dry cleaning team enlisted us to dismantle the garment, piece by piece. Each was cleaned separately and we then sewed it back together. Hey, they never said fashion was easy…
4. Does a tear or hole mean it's all over for your favorite wardrobe item?
I'm confident we can save it. A lot of times we do a process called reweaving. We handwork threads into the damaged area to recreate the fabric's original structure stitch by stitch. It requires good eyes and a lot of patience, but once completed, it's really like there was never any damage to begin with.
5. What are some useful tips for a great fit?
I could go on and on about this. For most garments, sleeves should end right where your palm meets your arm. Shoulder seams should lay at the edge of your shoulder and armholes too high or low look and feel uncomfortable. When it comes to suits jackets and blazers, you want them to be fitted, but watch for the X shape when buttoned, as that's a sign it's too tight. With pant length, a single break (the crease at the bottom of the leg where it hits your shoe) is ideal, though more casual pants worn with sockless shoes can get away with no break at all. It's a matter of preference.
If you are ever going to skimp on anything fashion, don't forgo the time and extra investment to ensure a great fit. It can make a low-priced item look all the more expensive. Vice versa, a poor fit can cheapen the look of even the priciest of labels.
Visit Rafael and our team of tailors at 
our boutiques
… We assure you the needles won't hurt a bit.
We know all your dirty laundry, but that's not enough for Sudsies.
We have always maintained that we are not in the dry cleaning business, but the people business. Humans need that social connection, and garments certainly aren't going to talk with us (well, to most of us, anyway), which is why we aim to touch our customers in more ways than simple clean clothes. People like doing business with others they 
like and trust
, two impressions that can be hard to earn and maintain. The best way to initiate that process: 
get to know them
.
A while back, we had a customer who would come in regularly with his seven year old son. We'd chat with the gentleman, but also his son. We'd talk about sports, music, family…. you name it. Nearly 18 years later, we're still having those conversations, though now he's a young professional and we're taking care of his suits. We have a lot of long-time customers whom we've won over when they were young children because we took the time to show them that we cared.
Getting to 
know you
 is to also to support you. Many of our clients are successful in their own jobs. We love not only hearing about their achievements, but like to commend them as well. Many times, Sudsies team members have written a manager a personal note or a positive online review when they've had a great experience working with them on the flip side as a customer. More so, some of our favorite restaurants, hotels, and retail stores were discovered because our clients suggest that we should check them out. There's only so much we can learn about our customers at a
dry cleaning
facility, so we're 
always happy
 to follow through on a recommendation to visit their turf.
Perhaps the best way we get to know you, however, is listening. So we'll stop yacking here and invite you to submit your comments, feedback, achievements, favorite pizza topping, or whatever you wish to share to help us better serve you.